ASSOCIATES (2006, November, v. 13, no. 2) - associates.ucr.edu


Marv Kaminsky
Reference Librarian
Midwest U.S.A.
LibVibe@gmail.com
So, have you gotten into the podcast thing yet?
Even though it's incredibly trendy, easy and was even declared 2005 Word of the Year by the New Oxford American Dictionary, most people have no idea what a podcast is, almost three years after the term was coined and two years after the new medium began to blossom.
It's Internet "broadcasting." Just that simple.
And it gets even better and simpler.
Podcasts are pre-recorded shows - most are audio (like radio), some are video - waiting in cyberspace to be heard by you, when and where you want. You don't need an iPod. All you do need is a computer with sound. Left-click on a link to "stream" the show or right-click ("Save Target As…") to download the show/file to your computer or to a portable device like an iPod or other player. Then listen, learn, enjoy. It's portable, on-demand listening. Using RSS ("Really Simple Syndication"), you can even "subscribe" (almost always for free) and have these programs waiting for you on your My Yahoo! page or in news aggregators like Bloglines, Netvibes, Protopage, Google Reader or even 'podcatchers' like iTunes that will automatically download newly-released editions direct to your computer or portable mp3 player.
There are lots of podcasts out there, for practically every interest and taste. NPR, BBC, CBC and many other "traditional" broadcast outlets make some of their programming available as podcasts. Other podcasts are created by businesses, organizations like libraries and individuals like me.
As a broadcasting major many years ago, I dreamed of fame as a radio personality and quickly discovered it wasn't really work for a [fairly] sane person. I loved the personal nature of the medium, but not the insecurity, sameness and "science" it had become. Fifteen years after I had last worked on the radio, along came podcasting. I heard about it one weekend morning on NPR's On the Media program (here's the transcript and audio link: http://onthemedia.org/transcripts/transcripts_010705_podcasting.html) and was immediately obsessed. I devoured everything I could find on the subject and learned that it is easily accomplished with very basic equipment and computer skills.
I, a reference librarian in the Midwest USA, debuted my first podcast, The Mr. Nice Guy Show (http://MrNiceGuyShow.com/), in late February '05. Focusing on humor, pop-culture, and the kinds of "bits" I used to do in-between songs on traditional radio. A few months later, seeing a niche I thought traditional radio folks would never, ever go near, I introduced JNewsLight (http://JNewsLight.com/).
All the while, I waited for someone to do a library news podcast. There were plenty of blogs, but no audio "newscast" equivalent. Like a library-oriented version of the five-minute newscast you hear at the top of the hour on the radio. Again, it seemed like an opportunity ripe for the picking. I hesitated, figuring it would be like going to work...after I got home from work.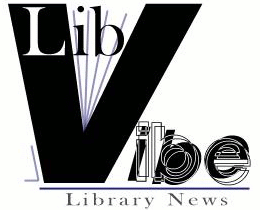 In the summer of '06, I got impatient. On July 29th, LibVibe: The Library News Podcast (http://LibVibe.com/) was born. Announced on just a few email discussion lists, it quickly became very popular, with listeners and subscribers from literally all over the spectrum of library service and the world.
The program is recorded and released usually twice a week, late Sunday and Wednesday evenings, to greet you at work Monday and Thursday mornings. Like other electronic newscasts, it's just a quick review of some of the stories out there and shouldn't be anyone's only source of library news, but it's a good start, a jumping off point and certainly better than no news at all, which is what too many people probably get.
At a time when library staff cynicism seems to be astronomically high, when the media and general public constantly question the need for us, when we must advocate and "sell" like we never had to before, and when even administrators seem to be unsure of how to position us, the stories I find to report are surprisingly unifying. Whether it's a materials challenge, budget issue, or even "kicker" item about a plumbing problem or bun-in-the-hair stereotype, it really seems to serve as a reminder of how we're all in this thing together, for the most wonderful, altruistic reasons.
Discover more podcasts:
You Don't Need an iPod http://www.youtube.com/watch?v=vpciLIA0Kn4
New York Times Podcasts http://www.nytimes.com/ref/multimedia/podcasts.html
Public Radio Podcasts http://www.publicradiofan.com/podcasts.html
BBC Podcasts http://www.bbc.co.uk/radio/downloadtrial/
CBC Podcasts http://www.cbc.ca/podcasting/
Buzz Out Loud (Technology) http://bol.cnet.com/
Total Podcastrophe (Humor) http://totalpodcastrophe.com/
Yahoo! Podcasts (Directory) http://podcasts.yahoo.com/
Podcast Alley (Directory) http://podcastalley.com/

---
About Us | Subscribe/Unsubscribe | Editors | Submit | Current Issue | Archives | Home