ASSOCIATES (2006, November, v. 13, no. 2) - associates.ucr.edu


Hello ASSOCIATES subscribers and readers!
Email subscribers: You will notice that the subject line heading of your email has changed beginning with the November 2006 issue. James Quinn, University of Illinois at Chicago, suggested putting article numbers in the subject line of emails for the issue so you can tell if you received all the mailings. I incorporated his idea and in addition added the number of the article and the total number of articles/emails to expect. Email subscribers will also see another change. In the past, a Title Page was sent first to alert subscribers to expect more ASSOCIATES emails; I've decided to do away with the Title Page and instead send the Table of Contents as the first email. The Table of Contents email will include the contents of ASSOCIATES, subscribe/unsubscribe information, and how to contact the editors. Email subscriptions are sent as "plain text" to hopefully avoid local email systems incorrectly dumping ASSOCIATES articles as spam. The email articles are stripped of photos and other html features before being sent; for this November issue, some email must be sent as "html" because most of the article contains digital pictures. If you don't receive all the articles you may want to check your spam folder or go directly to the web version.
ASSOCIATES has a new web feature! Jim Clark, ASSOCIATES Assistant Editor, indexed all the ASSOCIATES articles by title and by author. You can go to the index via the ASSOCIATES home page at http://associates.ucr.edu and click on "Past Issues." If you are looking for an article that was published in ASSOCIATES--check out this feature. Click on the author or title in the list and the article will open for you. This is much easier to find an article than using the "Archives and Back Issues" listing, which will remain as an option. Both the "Index to ASSOCIATES Articles by Author" and "Index to ASSOCIATES Articles by Title" are accessible from the Archives and Back Issues webpage at <http://associates.ucr.edu/archives.htm>.
The ASSOCIATES web pages have a new look! The color background has changed and some fancy lines now hold the title of each article. Most articles include a picture of the author--or if not, some type of alternative.
At any time during the year, any person is welcome to add library association events to the "Events Link" at http://associates.ucr.edu/events.htm. Recent additions to the listings are from Alabama and Illinois. Also Marian Dworaczek gave ASSOCIATES permission to link to her extensive listing of international conferences. See "Marian Dworaczek's Library Related Conferences webpage links" on the "Events Link" web page.
Congratulations to several of the July 2006 issue contributors for having their articles reprinted in other forums. Jim Jackson, University of Exeter and ASSOCIATES Contributing Editor, will have his article, "Poor Design Equals Poor Health? Questionnaire - The Final Results" <http://associates.ucr.edu/706fjac.htm> reprinted in SCONUL Focus. Margaret Watson, President of CILIP 2003-2004, had her article reprinted in the October issue of Library Worklife: HR E-News for Today's Leaders. See her July 2006 article "Certification: Recognition of the Contribution Made by Paraprofessional Staff in Libraries and Information Services," at <http://associates.ucr.edu/706fwat.htm>. Anthony Holderied, University of North Carolina at Pembroke, gave permission for his article, "Poor Leadership and the Toxic Environment" <http://associates.ucr.edu/706fhol.htm> to be used in a leadership workshop in Florida.
For this issue of ASSOCIATES, many authors wrote their articles with the theme "Investing in Your Future." Bessie Mayes, SPAWAR Systems Center, Pacific, contributes a fiction story set in Africa and the United States which incorporates this issue's theme. Kevin Dudeney, NSW Department of Corrective Services, writes about the Australian Library and Information Association (ALIA) and the library technician (LT) groups; also new is the Library Assistant/Technician International Network (LATIN), which provides a forum for the exchange of ideas and information among library paraprofessionals. Tinker Massey, Embry-Riddle Aeronautical University, urges library assistants to attend library conferences and workshops to learn new ideas that will help in the future. Jim Jackson, Exeter University, attended the United Kingdom's CILIP Annual General Meeting (AGM) and tells about his experiences at the meeting. Anthony Holderied, University of North Carolina at Pembroke, discusses how staff development benefits the person, operations of a library, and its patrons as well. Michael D. Brooks, Saint Joseph's University, interviewed a new librarian who had also been a library assistant to gather insight into one person's decision to make the career change.
For a light and fun article, Steven Bingo, library assistant at the University of Southern California, has an interesting account of becoming a contestant on the Jeopardy! television show. Marv Kaminsky, from a library somewhere in the Midwest U.S.A., reports on his experiences in podcasting and the development of LibVibe: The Library News Podcast.
Three reviews make interesting reading. Michael D. Brooks, Saint Joseph's University, sitting at his PC and lamenting the CPU speed while working on his MS for his PR class, reviews a website for finding the meaning of acronyms. Julia D. Ree, University of California, Riverside, reviews the comic strip "Unshelved"--if you haven't heard of it yet, you may be interested in learning more after reading about her experiences and insights. Jean Turner Weiss, University of California, Riverside, reviews the "Renaissance Library Calendar" and describes the libraries featured for 2007.
The continuing Column authors took to the challenge of "Investing in Your Future" and presented their views. Carol Borzyskowski, Winona Public Library, in "My View from the Backroom," realizes that health issues are of major concern for the future. Frank Exner, Little Bear, North Carolina Central University, focuses on you and your life while offering his vision of libraries and the people who make them work in his "Bear Thoughts" column. In "Library Life: A Column of Eclectic Rantings," Katie Kintner gives a tongue-in-cheek (or is it?) listing of great ideas for library fundraising … for free.
An exciting and informative issue …
Happy Reading!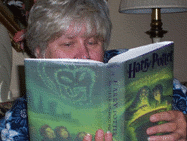 Wendee Eyler
Editor, Associates
University of California, Riverside
rivwe@ucr.edu
---
About Us | Subscribe/Unsubscribe | Editors | Submit | Current Issue | Archives | Home