ASSOCIATES (vol. 9, no. 3, March 2003) - associates.ucr.edu
Information of Interest
INVALUABLE NEW ELECTRONIC NEWSLETTER AND DATABASE RESOURCE HELPS INFORMATION PROFESSIONALS BUILD THEIR CAREER SKILLS AND CONTACTS
Libraryevents.com has just launched a brand new service for information professionals. The Library Events website provides up to date details of all the important events they need to know about, to enhance their careers and to build up their professional skills and contacts.
The service consists of a current awareness database, which is fully searchable, and a monthly newsletter, called LIS Events. It includes:
Training courses from a range of organizations, to help you plan the next steps in your career development program

Conferences, to keep you up to date with new developments and current thinking

Exhibitions and trade shows, where you stay informed about all the new products relevant to your library and organization, and build up your contacts

Library association meetings, where you can keep up to date with what's going on in your profession and meet your professional colleagues

National book and library events in many countries
You can see the website and the current awareness database at http://www.libraryevents.com - where you can also sign up for the newsletter.
The Library Events service uses EventKeeper(TM), a software package for creating online calendars and event listings, which can be operated by anyone who can use a web browser.
Perfect for libraries, EventKeeper is produced by Plymouth Rocket, Inc. and is designed for organizations who want to use their websites to inform their users about current events, but don't have in-house experts to create and maintain a custom Web calendar.
Details can be found at: http://www.eventkeeper.com/index.cfm?ref=LIBEVENTS
Contact: Stuart Urwin, Libraryevents.com, Stora Vastergatan 45, SE-271 35 Ystad, Sweden
Tel. ++46 411 121 70 Fax: ++46 411 121 10 e-mail:stuarturwin@libraryevents.com
---------------------------------------------------------------------------------------------------------------------------------------------

More about Libraryevents.com
Library Events is the brainchild of Stuart Urwin, a pioneer of realtime online services, who was first involved in creating online databases back in the 1960s.
More about Plymouth Rocket, Inc.
Founded in 1997, Plymouth Rocket Inc. provides consulting services in Web design and development, and specializes in Web applications that simplify the maintenance of Web sites through the use of dynamic data-driven Web software. The company is based in Plymouth, Massachusetts.
EventKeeper is a trademark of PlymouthRocket Inc.
---
INTERNATIONAL BOOK CONFERENCE 2003, CAIRNS AUSTRALIA - EVENT UPDATE
Dear Colleague,
I am writing to notify you that the final round in the call for papers for the Book Conference 2003 closes on the 31st March. Papers can be lodged at: http://book-conference.com/
The conference program featuring keynote speaker presentation abstracts and approximately 100 parallel sessions will be available on the conference website from the 18th March 2003.
I do hope you can join us in April for this exciting event.
Yours Sincerely,
Howard Dare
Director, International Centre for Graphic Technology
RMIT University
Melbourne, Australia
Howard.Dare@book-conference.com
---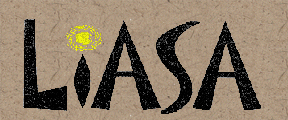 WESTERN CAPE SUPPORT STAFF INTEREST GROUP
PROGRAMME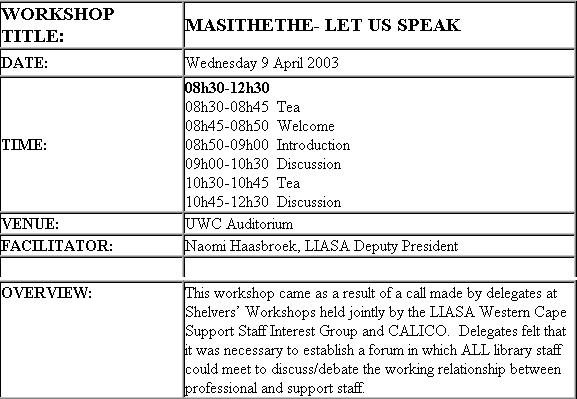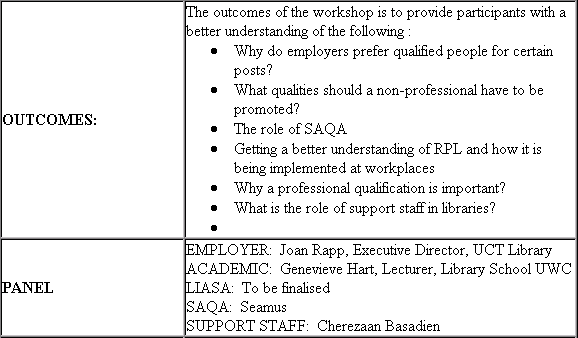 ---
About Us | Subscribe | Editors | Submit | Current Issue | Archives | Home