ASSOCIATES (2011, November, v. 18, no. 2)
Spotlight
Heidi Jensen, Canandaigua, New York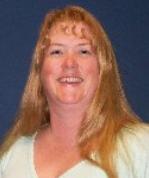 Cataloging Assistant
Pioneer Library System
hjensen@pls-net.org
Where do you work and what do you do?
I work for the Pioneer Library System in Canandaigua, located in the Finger Lakes Region of Upstate New York. I have worked for the Pioneer Library System for 10 years. For the last 8 years, I have worked primarily in the Cataloging Department.
I am very fortunate to work with a great group of librarians and library assistants in one of the most beautiful parts of New York State. Pioneer Library System is one of 23 public library systems, providing a large variety of support services to 42 public libraries in four counties.
As a cataloging assistant, I provide catalog records for any new item purchased by our member libraries. My preferred method is copy cataloging but when this isn't possible, I create original MARC records. I also am proud to coordinate events for Pioneer support staff.
The economy has been very tough on the public libraries and library systems of New York State. In the past few years state funding to library systems has been cut by 22%. As staff retire or leave for other positions, our office has not replaced those individuals. We have all come together, working hard, to continue to provide the quality services our libraries have come to expect.
How did you get involved with library work?
Funny story….My mom was the Assistant Director of the Marion Public Library for over 25 years. I grew up going to the library a few times a week or more. It was great! I was lucky enough to browse after the library was closed and among other things, I learned to file alphabetically at a very early age. In 2001, I was a stay at home mom. I loved staying home but financially it wasn't working, so I needed a paying job. I heard about a part time position at the Pioneer Library System. I decided to apply and since my last name was not the same as my mom's, I decided not tell anyone that I was applying or who my mom was. After I got the job and started to work, I let them all know what my maiden name was and how I learned about the job.
In 2004, I got involved with NYSLAA (New York State Library Assistants' Association). I attended my first conference in Rochester, New York and was totally hooked! In 2005, I jumped into NYSLAA head first and hosted the annual conference. It really was one of the best things I have ever done. It was a lot of work but worth every single ounce of my energy. I learned a lot about different types of libraries and the needs each unique library has – as well as meeting library assistants from across New York State many of whom I still keep in contact with on a regular bases.
In June of 2011, I took over the position of NYSLAA Ambassador. I have some big shoes to fill in this new role, as the previous Ambassador did an amazing job which helped to shape both the NYSLAA organization and the ALA Library Support Staff Interest Round Table. As Ambassador, I act as an advocate for NYSLAA and assist in the promotion of the NYSLAA Certificate of Achievement Program. Need more information? Please contact me I would love to share information with you.
Describe Support Staff activities in your area
I'm going to start with the one that is extra special to my heart. Each year I host a Fall Support Staff Workshop for the library assistants who work for one of Pioneer's 42 member libraries. The workshop has 3-4 different topics that are directly related to helping support staff do a better job in their library and their communities. Each attendee receives new useful work skills, networking opportunities, and a day filled with fun. Each attendee also receives goodies to take back to their library. Some are only able to attend this one annual workshop each year due to budget cuts and staff reductions in their libraries.
Another support staff activity is the NYSLAA conference held each June in a different part of New York State. It's a three day conference packed full of workshops and different networking events. Mark your calendar, June 6 – 8, 2012 the conference will be held in beautiful Niagara Falls, New York. I would LOVE to see support staff from different parts of the United States attend. We'll be happy to welcome you to NYSLAA!
Final Comments
It's been 10 years and I still LOVE my job! I have seen many changes within libraries over the past 10 years. From no longer using paper card catalogs to adding ebooks to library on-line catalogs, we have come a LONG way but we still have a long way to go. My request is to put the patron first. Forget the old saying that "this is the way libraries are supposed to be." Embrace change – grow and move forward!
I get very frustrated with the attitudes of any library staff member who has the 'them against us' attitude. We as a library community all need to work together for better and sustained library funding, better customer service and over all, keeping our libraries active and vital. In order to do this, we all need to go above and beyond our normal job responsibilities and always, take pride in the work that you do.
For more information about the Pioneer Library System go to: http://www.pls-net.org/
And to learn more information about NYSLAA go to: http://www.nyslaa.org/
1,126 views