ASSOCIATES (2011, November, v. 18, no. 2)
Review
Not Just for Geeks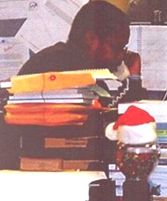 Michael D. Brooks
Saint Joseph's University
Philadelphia, Pennsylvania
If you often find yourself asking if there is a better way to do something, the website Lifehacker.com just might be for you.
Primarily a resource for people who run the gamut of experience with computers and other electronic devices, this site is also useful for people who may be looking for shortcuts and easier or better ways of doing just about anything. For example, if you are a DIYer, you might find recent articles on how to Make Pickles in Your Refrigerator, or how to turn a play mat into a toy bag useful. If you've got technical know-how and aren't afraid to delve into something a little bit more adventurous, there are articles that can turn everyday items into almost anything you can imagine. Like a recent article that describes how to incorporate an alarm system in a bag like a pocketbook or something similar.
The articles are varied, and are often very intriguing. While writing this review, I found two articles of interest. One described how to clean a cast iron skillet using a salt scrub. The other article (a video, actually) describing how to shuck corn without having to peel away the silk threads by using a microwave.
Lifehacker articles are written by people who are either experts in their field or by individuals who are part of the Lifehacker community that have some expertise in some aspect of life and are willing to share what they know with others.
The homepage is divided into two basic columns: Left and Right. The left column lists the site's top articles. The right column lists the latest stories. The ease of viewing the columns depends on the type of browser that you are using. If you're using Firefox (I used version 7.0.1), using the scrollbar to the right of the screen will allow you to scroll up and down the left column. However, you have to hover your mouse over the right column, in order to scroll up and down. There is a scroll bar, but it is barely visible.
If you're using Internet explorer (I used version 9), both the left and right columns, scroll up and down simultaneously. There is no option to scroll through one column at a time.
I also opted to look at the site using the Chrome browser (I used version 15.0.8 74.106 m). Chrome displayed the pages the same way as Firefox with one exception: there is a very slim scrollbar visible on the right column. You have the option of using that or hovering your mouse over the column and then scroll up and down.
The two columns remain the same on every page regardless of whatever article you might click on. This means that if you click a link in either column, the article you select will show up in the left column. If you choose to read an article from the right column, the list of articles in that column will reconfigure themselves to display topics similar to the one you choose to read.
There are also forums that are hosted by Lifehacker readers. So if you like Lifehacker.com, you can become a member of the community and participate in the forums or write your own articles or simply subscribe to it through Facebook, Twitter, RSS, or E-mail updates.
1,403 views