ASSOCIATES (2011, November, v. 18, no. 2)
Spotlight
Karen A. Darby, St. John's, Newfoundland & Labrador, Canada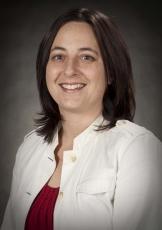 Library Assistant
Health Sciences Library
Memorial University of Newfoundland
Where do you work and what do you do?
I work at the Health Sciences Library branch of Memorial University of Newfoundland. My job title is Library Assistant and I have a varied number of job duties, these include:
Reference,
Instruction Assistant: Assist in lab presentations, facility bookings, assist with class notes and instructor guides,
Health Information Teaching Series: Maintain database of participants, scheduling, prepare lab space,
Health Bibliography of Newfoundland and Labrador: Data entry and contact person for submissions,
Documentation Coordinator – Policies and Procedures,
Website management and HTML editing for the library,
Faculty of Medicine Database: Data entry and contact person for submissions.
How did you get involved in library work?
I started working in libraries when I was an undergraduate student. My first job was working in the Acquisitions and Collections department at the Queen Elizabeth II branch of Memorial University Libraries. I had an amazing boss who taught me so much about how libraries work. She also gave me my first permanent position working in a library, 10 years later. After graduation I had a contract position to create a library for a local hospitality organization. It was a daunting task but very rewarding.
Describe Support Staff activities in your area
Support staff at our library cover just about every aspect of library work: circulation, acquisitions, cataloguing, reference, and document delivery. We are a smaller branch of our library system but are very specialized. We are the library that supports the University's Faculty of Medicine, School of Nursing and School of Pharmacy, as well as the library for the largest hospital in our province.
In the past 6 years I have become very involved in our local and regional library associations. In 2006, I was asked to be the convenor of the Library Technicians Interest Group for the Atlantic Provinces Libraries Association (APLA). I was very fortunate to meet some very encouraging people through APLA and the Newfoundland and Labrador Library Association (NLLA). In 2008 and 2009 some major changes were achieved with respect to the NLLA. A new Interest group for Library technicians and assistants was formed and in 2009 the executive of NLLA and the membership voted to have an elected representative specifically for Library technicians and assistant. The NLLA has also sponsored a conference for Library technicians and assistants every year since 2009, under the direction of the Library Technician and Assistants Interest Group. During this time I was the convenor of the interest group, chair of the conference committee and the elected representative for all library technicians and assistants for Newfoundland and Labrador. It was a very busy time.
Final Comments
I was the recipient in 2010 of the Canadian Library Association Library Technicians Interest Group Award of Merit. I was very honoured and touched by the award. It is so amazing to be recognized for all the hard work. I did not do it alone, there were many who were involved in all the changes that have happened.
I have recently stepped down as the convenor of the NLLA Library Technician and Assistants Interest Group and as of next May I will no longer be the elected representative on the NLLA executive. I hope that I have encouraged library technicians and assistants in my province and region to do two things: get involved in their local and regional associations, it is very rewarding and to believe (in the words of a dear friend) that "I am not "just" a library tech"
1,007 views