ASSOCIATES (2011, November, v. 18, no. 2)
Feature
Children's Stories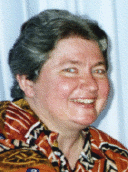 Tinker Massey
Eileen4tinker@yahoo.com

Another Fall – another era of living! Life has changed a lot in the past six months. I retired in May after nearly forty years of work. Many of those years were spent working two and three jobs at a time, so that our family would not be in the streets. I have just returned from the Charleston Conference and, although not delivering speeches, I made contact with a number of vendors and personal friends, renewing my strength and rejuvenating my spirit for new creations of the mind.
Pattie Tedesco Jones, my illustrator, and I have been hard at work producing the first two children's stories of our Lake series. The first is called "Bread and Fishes" and the second is called "Morning Memories." They are very colorful and the stories give children understanding of how to have fun in your family, learn about trust, and receive the beauty of nature in our souls. "Lizard's Sunday" is well on its way to being completed also. It appears that I will have to do some speaking engagements to keep up with expenditures for our production of the books. Oh, well… If it's worth doing, it's worth doing well!
I am looking forward to teaching people how to write for children. What are the general ways to get started? Explore new ideas? How to write about morals and positive ideas? Looking for an illustrator? Finding associations with people who are on the same wavelengths? Helping to establish more positive avenues of coping for youngsters? I am looking for sales venues and have discovered some used bookstores, but also establishments handling gifts in lake or river venues in Canada, as well as, the United States. The excitement of explaining to parents and grandparents how the books work in a child's life is still there. All the passions of life have actually amassed into the stories and I hope I can share that with you in the coming years. Three/four hour presentations are very popular and include step by step ideas as well as some experience. The full day presentation includes all the above plus practice sessions for those serious about writing for children. We might even do some shorter writings in Associates about the processes and techniques you need to know before beginning to fill your passion for writing. Let me know!?
Everyone, have a great time in the season coming and the new year!
1,196 views