ASSOCIATES (2012, March, v. 18, no. 3)
Review
Free eBooks without the eBook Reader. Really!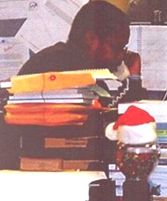 Michael D. Brooks
Saint Joseph's University
Philadelphia, Pennsylvania
There may be no other word in the English language (or perhaps any other language) that elicits more excitement than the word Free. Say that one little word and people perk up and listen to or read about what's for free.
In the library world, the word free is synonymous with borrowing. People love being able to go to their favorite library and borrow a book for free. Unfortunately, free is not a word associated with print or electronic books obtained from places other than libraries.
However, Planet eBook.com provides a limited number of books in electronic format to anyone. For free. And you don't need an ebook reader. All you need is a computer and access to PDF software. If you don't have PDF software, you can always use the free software, Nitro PDF Creator, the site owners (Nitro PDF Software) provide. The software, both 32-bit and 64-bit versions, received a five-star rating from the editors of CNET.com.
There is also a link to download free PDF software from FoxTab. I was not able to determine the validity of the FoxTab software at the time of this writing so I'm not able to recommend its use.
As for the books, they can be offered for free because they are all in the public domain. They are not current best sellers, but are literary classics like George Orwell's 1984, Charles Dickens' A Tale of Two Cities, Pride and Prejudice by Jane Austen, and Around the World in 80 Days by Jules Verne. As of this writing, there are 82 books available on the site.
Being able to read these books is as simple as selecting one of two options to download: the one-page format or two-page format. If you chose the one-page format, only one page at a time will appear on your screen. If you chose the two-page format, two pages will appear side-by-side on your screen.
Before you download the book of your choice, you can read a brief excerpt from it to help you decide if you want to read it. Just select the book you're interested in from the homepage, and then click its link. If you decide you do want to read it, all that's left is choosing which option you want.
If you like this site, you can find out more by checking out their About page for information about what they're about and a list of some FAQs, by subscribing to the newsletter, checking out the blog, or adding them to your RSS feed reader.
Happy Reading.
1,045 views