ASSOCIATES (2013, March, v. 19, no. 3)
Spotlight
Carmelita Shea, Cape Breton, Nova Scotia, Canada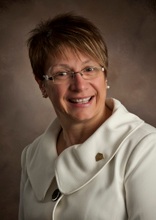 Library Consultant
Cape Breton-Regional School Board
cshea@cbvrsb.ca

Where do you work and what do you do?
I am the Library Consultant for the Cape Breton-Victoria Regional School Board, located in Cape Breton, Nova Scotia. We are a public school board with approximately 19,000 students. As a consultant for the library program I supervise staff and provide professional development for all staff members. I oversee the budget allocation and monitor purchases for the libraries, as well as provide collection development recommendations to all schools, especially when new schools are being built. I coordinate many literacy activities such as reading challenges, community partnerships, and information sessions. Collection development is my primary duty as we work with Race Relations to develop collections that are appropriate to our curriculum, as well as, preventing bias/prejudice in the materials. I also manage the Teacher's Resource Centre which is a library for school staff consisting of print and non-print materials. The Resource Centre also has Reading Boxes to compliment the curriculum as we are the storage facility for the Nova Scotia Department of Education's curriculum documents. I attend administrative meetings as well as liaison with other boards across our provide in regards to school library programs. I am also a member of the Race Relations, Cross-Cultural Understanding & Human Rights Lead Team, and the Chairperson of the Board Library Committee with consists of various stakeholders in our school programs.
How did you get involved in library work?
I have always had a passion for books. As a child, I watched my father as he read novels, newspapers, magazines, etc. and he often read to me. Being curious, I had to discover this "fascination' for myself. I know I get the love of books from my father, who self-taught himself to read after immigrating to Canada from Italy. With only a grade 3 education, and the language barrier that faced him, he knew that books were a great way to learn the language and also be a wonderful pastime after a hard day's work. After graduation with my Bachelor of Arts Degree in Community Studies, I worked as a summer assistant at a local museum and as that job was ending I discovered an advertisement in our local paper for a Library Assistant at Memorial Composite High School where I had just graduated 3 years previously. I was selected for the position and began working with my former high school librarian in a clerical position. Two years later, changes in the education system saw me move into his position as school librarian and then moving on as the Library Consultant 9 years later. Now in my 30th year, I know this is where I am meant to be. During this time, I completed a Library & Information Technology Diploma from the Nova Scotia Community College, eventually becoming an online course facilitator in the program, and also completed my Master of Education (Information Technology) from Memorial University of Newfoundland. For me, learning is truly a lifelong journey.
Describe support staff activities in your area.
The Cape Breton-Victoria Regional School Board has 21 Library Technicians working in 40 out of 54 schools, with many working on a circuit basis. Library Technicians are responsible for all programming, acquisitions, and maintenance of their school libraries. Besides the technical services aspects of cataloguing, acquisitions, etc. They develop various programs and activities as well as host books fairs, participate in reading competitions, and advocate for the importance of libraries in a school in the enhancement of literacy goal. Some staff are committee members on School Advisory Councils, Board Committees, Parent Groups, and Provincial associations as part of their advocacy. The implementation of technology into the curriculum has created an avenue for Library Staff to partner with classroom teachers in the infusion of technology into students' worlds.
Other
In 2008, I received the Canadian Library Association Award for Library Technicians Interest Group, having the honour of meeting the Chief Librarian of Canada, Ian Wilson. As Past Present of NSALT (Nova Scotia Association of Library Technicians), our school board is preparing to host our provincial conference in October 2013, in scenic Baddeck, Nova Scotia, having hosted a very successful conference at the same location in 2008. This past year, I was awarded the Queen Elizabeth II Diamond Jubilee Medal for my contributions to the community and especially my work in promoting literacy to children. I was selected to the "Wal-Mart Hall of Fame for the Adopt-a-Library Program" being inducted with both a federal and provincial politician. The highlight of the past year was my marriage to Stephen Shea (Ret. Master Corporal) who served the Canadian forces for over 25 years. My dream library goal would be to see the great library in Alexandria, Egypt or maybe the Book of Kells when I visit the United Kingdom in 2014.
"The more that you read, the more things you will know. The more that you learn, the more places you'll go."
― Dr. Seuss, I Can Read with My Eyes Shut!
744 views