Welcome to ASSOCIATES! This journal is a forum for and about library support staff issues. ASSOCIATES is published three times per year in March, July, and November. Subscription is FREE!
ISSN 1077-6613
---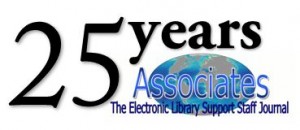 November 2018 (Vol. 25, no. 2)
From the Editor
You may have noticed on the page that Associates is 25 years old. Associates was first published in July 1994.

Another year is coming to an end and I would like to thank our regular writers, Allison Sloan, Sue Knoche, Michael Brooks, Jim Jackson and our Spotlights and everyone who participated in the Reader Responses. Also, I would like to thank Karen Hildebrandt, who retired this year and welcome Andrew Plait.

I would like to thank Jim Clark. Jim looks after the webpage, without him Associates would not happen. Thanks mate!

Bessie Mayes a member of our Editorial Board is retiring from work and the Editorial Board. We wish Bessie all the best for the future.

To all our readers I would like to wish you a merry Festive season and a happy New Year and all the best for 2019.
Column
Be It Ever So Humble … by Sue Knoche
Sue shows us ways to reuse various items that we may have in our libraries to add something different to our meetings/events.
Feature
Reader Response
If you are buying a book as a present for someone, adult or child, what would it be and why?
One of our readers Diann Cullen couldn't come up with one book so she provided us with four.

25 years of Associates – the electronic support staff journal – Happy Birthday!! by Jim Jackson
Jim brings us some of the interesting articles published and names of people who have been involved in Associates over 25 years.

News from Canada by Andrew Plait
Andrews tells us something about how he got involved with libraries and links to interesting things happening with libraries in Canada.

What's Associates to you? by Allison Sloan
Allison tells us about some aspects of Associates that we may not be aware of. Allison also mentions an elist called LATIN (Library Assistants/Technicians International Network).
Fiction
The DAVE project – A Kelly Bourne Story by Jim Jackson
Kelly just can't help it as trouble just keeps finding her.
Spotlight
Review
Understanding #Hashtags for Beginners by Michael D. Brooks
Michaels has provided some information about hashtags and some links for us to seek out some more information.
5,544 views