ASSOCIATES (2018, November, v. 25, no. 2)
Column
Be It Ever So Humble …
Sue Knoche
Medical Library Assistant
ETSU Quillen College of Medicine Library
Johnson City, TN
Knoches@mail.etsu.edu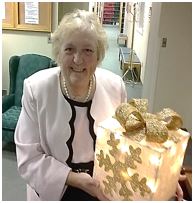 As a member of many professional library organizations serving in various capacities for many years, some groups have conferences/meeting in the spring, whereas others use the fall months on a state, regional or national level. To attend one of these conferences I have a spectacular drive for miles over the mountains on a highway lined with magnificent trees in vivid shades of yellow, dazzling bronze or brilliant red tones along with evergreens so tall they are reaching for the sky is truly an impressive work of nature.
As the Chair of the Southeastern Library Association (SELA) Membership Committee, one of the responsibilities is to coordinate a membership table at this joint conference. As in past years, we have always conducted a special drawing, give away chocolate, pens with the group logo and membership brochures to introduce participants to our regional library group. This year two (2) one year memberships in this association were awarded, as well as four (4) gift baskets; four (4) donated Starbucks or Amazon gift cards; two (2) large gift bags filled with library related items; one (1) pack of 4 special books, two (2) t-shirts, two (2) Yeti mugs, were donated to be given away in the drawing.
At past meetings, a participant needed to drop a card in a bowl or take time to write out a registration slip; but this year wanted to come up with an idea using a common sense approach to be easier for everyone. I thought I would share this concept with you in the event you have door prizes or raffle type drawings while volunteering for your library group or other community charitable organizations.
I used materials left over from various poster projects, etc. with old labels hoping they would adhere, and they did. For backing I used old post card stock in neon colors, pink, green, yellow, orange, blue that we used with an old pin-wheel type feed printer which was obsolete and disposed of many years ago, but seemed wasteful to recycle or trash the stock. I created a simple set of random numbers using the pattern of a letter, number, letter in an easy to read large print. Using address label sheets Avery #5160 – 1" x 2 5/8" – 30 labels to a sheet; but of course you can use any size label you have on hand or even print on heavy paper/card stock and cut to whatever size desired. My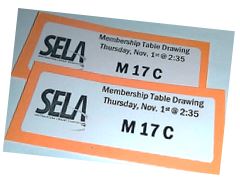 extraordinary cataloging skills made it easy to create each set of two (2) with unique numbers. Whatever size is practical for you, I used an old-fashioned paper cutter dividing each card in three equal portions. It was then easy to apply a label to each piece. I matched colors so they were identical, then paper clipped them together and put in basket. Removing the paperclip, handing one to a participant and ask they put it behind their name badge, the other put in the drawing box, which was an old shoebox I cut a hole in the lid worked out nicely. A sign with all information of the drawing was placed on top of the box with a notation 'winner must be present' and as I gave out tickets due to alcohol within four baskets, I asked all 'you must be 21 or over that isn't a problem is it?' the unique responses or expressions were precious. The names, etc. would only be required if they won and everyone agreed. Earlier I numbered the gifts and created a list with the order they would be given, the description, and place for winner's information only used for demographics in the report I will be generating. Two of my committee members helped a lot. A thank you e-mail sent to all who donated and the recipients of the gift membership contacted for further information. Note that this was a time consuming venture, unless of course you create a system with shortcuts to make the process easier/faster, but well worth the time/effort applied. I created 200 sets of two (2) tickets each, which we used 70% or a good response to this event. Hope this has been helpful if you need to create tickets for a project for the library, library group or community group or events. Everyone likes to win a prize to take home and pleased the process was easy and efficient.
I like being involved in extracurricular activities as I hope you do too; however, if not perhaps you may consider giving your time and expertise to others in the near future. The great feeling one gets in helping others is like no other and the possibilities are infinite, creative or priceless. Whatever corner of the world you may reside, wishing you a safe, healthy and successful New Year.
203 views