ASSOCIATES (2018, November, v. 25, no. 2)
Spotlight
Raquel Lynn, Long Island, NY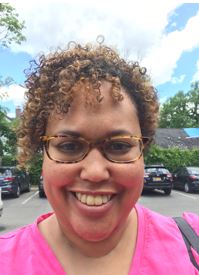 Stony Brook University Libraries
Where do you work and what do you do?
I work in the Cataloging and Metadata Department of Stony Brook University Libraries on Long Island, New York. I catalog print monographs, books, and sheet maps in several languages.
How did you get involved in library work?
I first considered a career in librarianship after taking the Myers-Briggs Type Indicator test in high school. To gain library experience, I volunteered at the medical library of a hospital. I put every book in the collection in order and assisted with the implementation of the online public access catalog. I loved every minute of it.
Describe the staff professional development activities in your area.
There are continuing education seminars, workshops, and an annual conference offered by the Suffolk County Library Association and the Long Island Library Resources Council. This year I won the Rose Robischon Scholarship to attend the NASIG (North American Serials Interest Group www.nasig.org/) annual conference in Atlanta. There I learned about MarcEdit7.
Final comments
This month I applied to master's programs in library and information science. I hope to complete the degree online.
99 views