Welcome to ASSOCIATES! This journal is a forum for and about library support staff issues. ASSOCIATES is published three times per year in March, July, and November. Subscription is FREE!
ISSN 1077-6613
---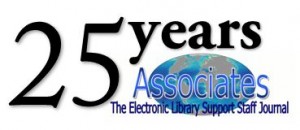 March 2019 (Vol. 25, no. 3)
Feature
Reader Response
What book that you have read would make a good movie or television series? Also, please give your reasons.
We received some good submissions. Unfortunately, I don't think any film or TV producers will be reading Associates for new ideas.

News from Canada by Andrew Plait
Andrew provides some comments about what has been happening at his library in Medicine Hat, as well as, proving links to other stories in other Canadian libraries.

Season to Take Charge and Get Organized by Allison Sloan
Allison talks about how the seasons effect libraries and the requirements of users and home.
Fiction
The Flood – A Kelly Bourne Story by Jim Jackson
Kelly Bourne is at it again… this time it's a major catastrophe at the library and a mysterious friend!
Spotlight
Tasha Amme, San Francisco Public Library, San Francisco, California

Jennifer O'Connell, Lucius Beebe Memorial Library, Wakefield, Massachusetts
Review
Can't Find Your User Manual? ManualLib Has You Covered by Michael D. Brooks
It can happen to any of us. A piece of technology doesn't work and you can't find the manual. Michael provides the solution.
Conferences
New York State Library Assistants' Association, 41st Annual NYSLAA Conference, June 12 – 14, 2019, Geneva, NY. http://www.nyslaa.org/conference.html
American Library Association, 2019 ALA Annual Conference, June 20–25 2019, Washington DC. http://www.ala.org/conferencesevents/annual-conference
6,250 views