ASSOCIATES (2019, July, v. 26, no. 1)
Feature
We Invited a Llama to our Library and Here's what Happened: Animal Assisted Activities at the Library
Kelly Hallisy
Social Sciences Librarian
Ithaca College
khallisy@ithaca.edu
Ben Hogben
Access Services Manager
Ithaca College
bhogben@ithaca.edu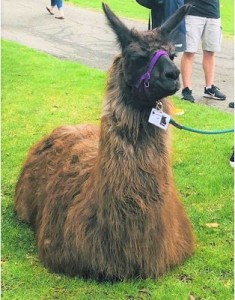 "The use of therapy dogs in AAA does have a significant impact on lowering the blood
pressure of students on the actual day of final examinations.."
JoAnn Jarolmen & Gunjan Patel (2018) The Effects of Animal-Assisted Activities on College Students Before and After a Final Exam, Journal of Creativity in Mental Health,13:3, 264-274, DOI: 10.1080/15401383.2018.1425941
Offering de-stress events around finals or midterms has been a trend in Academic Libraries for years (Rose, Godfrey, & Rose; 2015, Robison & Muszkiewicz, 2018). Incorporating animal-assisted activities (AAA) into de-stress events has been shown to result in improved participant moods, mental health and school climate (Chang, 2019; Aydin et al., 2010). Some institutions have undertaken specific studies, tests, and surveys around the benefits of animal-assisted events. They found that stress rates were lowered, students experienced decreased anxiety and loneliness, students' ability to cope with personal stressors improved, and that heart rates and blood pressure levels decreased (House, Neal & Backels, 2018; Barker, Barker, McCain, Schubert, 2017; Jarolmen & Patel, 2018). Other research has focused on Animal-Assisted-Activities and their positive impact on the reduction of levels of homesickness of first-year students (Binfet & Passmore, 2016). Foreman et al. (2019) recently conducted a study on employee attitudes and their perceived impact of visitation dogs on college campuses. They found that employees believed that animals had a positive impact on the workplace and the well-being of students. While there is a lot of research and suggested best practices for inviting and including AAA dogs for de-stress events, there is little research on the impact of including other animals in AAA events. This article will detail best practices for coordinating an expanded Animal Assisted Activity.
The Ithaca College Library began hosting AAA (animal assisted activities) events in May 2014. The events initially included visits from dogs that were certified in pet therapy. The library's Access Services Manager contacted the members of the Cornell Companion volunteers to see who might be available for a visit. Eight volunteers responded to the first event – the positive impact the participating dogs had on students was immediately apparent. Visits were typically one hour in duration on a day during the last week of semester classes. The last week of classes was chosen as the library staff wanted to reach a large number of students in terms of availability. The inaugural event was advertised through the library's Facebook and twitter pages. It was well attended and manageable. Facial expressions from attendees included large smiles, laughter and many photo ops. The owners of the dogs got the opportunity to talk about their pets and give information about the breed of their dog, which ranged from an Alaskan Malamute to a Shih Tzu. Subsequent events have included dogs from Cornell Companions and Therapy Dogs International.
Planning for AAA Event
When organizing a visit that includes animals, pre-planning is important to ensure that the event is manageable, safe and of value to the college community. The animals typically visit for one hour, based on the length of time that the volunteers are able to commit and how long the animals can interact with attendees before tiring. It is important to select a location that will not impede foot or vehicle traffic. The weather is also a consideration, as the events were scheduled for the end of the semesters in December and May when the outdoor conditions in upstate New York can be unpredictable. The library found that collaborating with other departments was crucial. The Office of Public Safety was instrumental in providing on-site assistance with the event. Creating and submitting a plan to Risk Management helped ensure that important considerations were not overlooked. The safety of the animals and safety of attendees was a priority. Questions addressed included: does the organization sponsoring the animals carry liability insurance? Do the animals go through a certification process, which includes a current record of immunizations? What about staff who want to bring their own pets to the event?
The Llama Comes to Campus
In November of 2018, Cornell Companions was again contacted regarding a visit to the Ithaca College Library. One of the volunteers replied back and asked if we would like to have a llama visit, along with the dogs. A llama? That would certainly be a first for our campus. When the llama visited, this was certainly the first llama escort to occur on campus. Why an escort? Parking maps can sometimes be hard to decipher and an escort assists with getting to and exiting the event site. Aside from the animal volunteers, volunteers from the campus community were also important. When the llama visited again in May of 2019, the library partnered with the LGBTQ Center since they had expressed interest in a previous visit from the Cornell Companions. T-shirts were ordered for event volunteers that read "Llama Crew." This helped in event coordination and identifying the volunteers. Additionally, having student volunteers helped create a social atmosphere that encouraged other students to participate.
Don't they spit?
This was a common question when people heard that a llama would be visiting the campus. The llama, whose name is "Late for Breakfast", went through the same certification process as the other animals that were part of the AAA event as it would be around many people who would be giving it attention, lots of attention. It got its name by being born one and a half months late. The typical gestation period for a llama is eleven months. Late for Breakfast was born after twelve and a half months. Another common question was if the llama was litter-trained. The answer is yes, according to the owner, though accommodations are made if the llama will be traveling for a long period of time. This is done by using a portable llama litter dung pile. The llama that visited our library also regularly visits local human service agencies, other libraries, skilled nursing facilities, a bank and a post office (G. Fulkerson, personal communication, June 25, 2019).
#LlamaFever
In addition to preparing for the llama visit logistically, the library strategized the best way to promote the event across all social media platforms: Facebook, Twitter, and Instagram, and the Library's webpage. Creating an event on Facebook allowed students to indicate whether or not they were attending the event. Marketing the event on Instagram proved to be quite successful. Using Canva, a simple graphic design tool website, Llama Countdown posters were created that featured a picture of a llama, and the words "7 Days," or "3 Days" leading up to the llama event. Evidence supports that this not only helped promote the llama event, but it also greatly increased traffic to our Instagram account. Over the week that we posted about this event, we had a total of 107 profile visits, and we reached over 2,311 accounts. The "Day 4" llama poster reached over 400 accounts on Instagram making it our most reached photo ever, most photos average 200 reaches. Anecdotally, about a week after the event, and after all of our llama promotion, the Instagram account finally reached over 400 followers, a long awaited goal for those running the account. While animal-centered events have a positive impact on student well-being, it appears it also improves overall campus engagement and perception of the library.
Llama Lessons Learned
Dogs are common to destress events and are somewhat easy to transport to and from the site. The llama, due to its size, was transported by its owner in a van and needed to park near the event. The license plate of the van, "LAMAZINE", gave a clue as to what was visiting. With the first visit in December, attendees crowded around the llama as soon as it exited the van. This meant that individual selfies were somewhat challenging. With the most recent visit this past May, once the llama arrived at the site, a line was formed so that the attendees had a chance to take individual selfies.
Promoting the event on social media had a positive effect. A review of social media comments post-event demonstrated how it was viewed across campus. While most comments were supportive and enthusiastic, there were some unexpected responses. One commenter questioned the policy of allowing animals on campus, while others inquired about funding for the event and whether resources should be used for other campus initiatives. This indicated that commenters were not aware that owners and animals participating in the event were volunteers, and that all of the animals have been screened and found to be suitable for pet visitation and animal assisted therapy 'work'. Analyzing social media feedback will be useful to assist with planning future AAA events. When promoting the most recent event, library staff were more successful in communicating that Cornell Companions were volunteers. Another piece of feedback that the library received post-event was to continue to include more animals.
A Whole Llama Good News
Including a therapy llama in our de-stress event had a significant positive impact on the event as a whole. The campus community was talking about the event long before the visit. There was much curiosity about having a llama stop by the library, and other libraries contacted our library asking where we found a llama to visit. The day of the event, our therapy dogs arrived first and created much excitement, but the anticipation of the arrival of the llama was palpable. Upon the llama's arrival, a line of students and a few staff immediately formed. There was a consistent line to pet the llama for at least two hours. Breakfast the Llama gets tired after about an hour of petting, and needs to lie down. While the first event took place on concrete, and ended after an hour, the most recent AAA event was on a lawn. This allowed Breakfast to lay down comfortably so students had a significantly longer time to visit with the llama.
The event had a very positive impact on the campus social climate. Upon seeing the dogs, some students began crying joyful tears and saying how much these animals reminded them of their own pets at home. College employees also took the time for photo ops with the dogs, as well as the llama. In subsequent information literacy sessions when librarians mentioned the llama, several students referred to her by name.
Since the events, the llama visit has been mentioned in an official college publication the Spring 2019 edition of IC VIEW – THE MAGAZINE OF ITHACA COLLEGE, on the college's website as a news item, and a featured article in the local newspaper. A photo of the llama also appeared in the April 11th, 2019 online publication of College Magazine, where Ithaca College was ranked as #5 for advocating for mental health awareness (Harward, 2019).
The Llama's Future
With the positive feedback we've received from this event, we will continue to collaborate with others to bring AAA events to campus. Our experience, and research, have demonstrated the value of animal assisted activities and their positive impact on students, staff, and faculty. While preparing for this article, the authors learned that the owner of the llama also has a therapy camel and a therapy goose (G. Fulkerson, personal communication, June 25, 2019). Future possibilities, perhaps?
Works Cited
Aydin, N., Krueger, J., Fischer, J., Hahn, D., Kastenmüller, A., Frey, D., & Fischer, P. (2011). Man's best friend: How the presence of a dog reduces mental distress after social exclusion. Journal of Experimental Social Psychology. 48(1), 446-449.
Barker, S., Barker, R.T., Mccain, N.L., & Schubert, C.M. (2017). The effect of a canine-assisted activity on college student perceptions of family supports and current stressors. Anthrozoös, 30(4), 595-606.
Chang, H. (2019). This library program's for the dogs: Furry, four-legged school visitors promote reading and reduce stress. School Library Journal, 65(2), 22.
Foreman, A., Allison, P., Poland, M., Jean, M.B. & Wirth, O. (2019). Employee attitudes about the impact of visitation dogs on a college campus. Anthrozoös, 32(1), 35-50.
Harward, S. (2019). Top 10 colleges advocating for mental health awareness. College Magazine. Retrieved from https://www.collegemagazine.com/top-10-colleges-advocating-for-mental-health-awareness
House, L.A., Neal, C., & Backels, K. (2018). A doggone way to reduce stress: An animal assisted intervention with college students. College Student Journal, 52(2), 199-204.
Jarolmen, J., & Patel, G. (2018). The Effects of Animal-Assisted Activities on College Students Before and After a Final Exam. Journal of Creativity in Mental Health, 13(3), 264-274.
Robison, M., & Muszkiewicz, R. (2018). Whiteboards, blanket forts, and autonomy: Using self-determination theory to improve library de-stress programming. Public Services Quarterly, 14(4), 309-328.
Rose, C., Godfrey, K., & Rose, K. (2015). Supporting student wellness: De-Stressing initiatives at Memorial University Libraries. Partnership: The Canadian Journal of Library and Information Practice and Research, 10(2), 1-21.
2,430 views