ASSOCIATES (2019, November, v. 26, no. 2)
Column
Be It Ever So Humble …
Sue Knoche
Medical Library Assistant
ETSU Quillen College of Medicine Library
Johnson City, TN
Knoches@mail.etsu.edu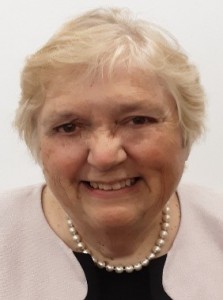 As you know this will be my last "Be it ever so humble…" column and of course reality has set in with some feelings of sadness; but, proud of what I've accomplished in my library paraprofessional career and very grateful for the opportunity to write for a prestigious library staff journal. A career span of 31 years in the medical library technical services including cataloging, acquisitions, serials as well as tours at our History of Medicine Museum and circulation desk duties which included simple reference queries a few hours a week, it is time for retirement.
I have been formulating plans/reservations and my retirement begins on a plane on Dec. 9th to arrive at my first destination of Athens, Greece (80 days). Then to Bucharest, Romania (60 days); Rome, Italy (10 days); a long ferry ride of 12 hours to the coast of Croatia (60 days) of sun/beach/history, etc. From this point a train ride across Europe with stops in Switzerland, Belgium, France to the coast or stay in Portugal (30 days). Finally a stop in Germany, then back to Tennessee (8 days). I must admit I was a little apprehensive when the idea first occurred to me to travel this long, alone for an extended period of time; but after reading about someone else who used this as a retirement option, stating staying in hotels on long term basis was more economical than one may think. It's called a "Globe Trotting Retirement" and my adventurous side said "why not". I have traveled alone for so many years & enjoy it that way. I wanted to do 2 years away, but the International Health Insurance said 1 year at a time, so I'll return to TN Nov. 2020. I will be covered medically for hospitals, physicians, etc. in 180 countries should something happen. My physician has approved taking me off insulin injections (been on for years) and just using medications, so that solves a huge problem. The accommodation have been arranged through Airbnb, which is based in San Francisco, CA and the longer you stay at a location the larger the discount, with all information provided upfront, payable on a monthly plan…Can't wait!
All my family has passed on, so there is only me with many great friends, but nobody that needs to keep in touch with me, or be responsible for me – except me. I have sold my old mobile home and car (putting it in storage for that long would ruin a vehicle, so this was a better solution) after the hard work of saving, etc., and doing extensive financial research – it will be possible. After about week or so back in the U.S.A., I'll start traveling again, with my first stop to be Norway, although I've been to this beautiful country before it was a different time of year and have always wanted to see the 'northern lights' sky, typically is Nov-Jan depending on the atmospheric pressure should be different each time. In the past I have enjoyed downhill skiing with a passion, however with knee problems it hasn't been an option for years especially now being in the senior citizen category with more typical symptoms of aging creeping up, so it's not a good idea. My physician recommended cross-country skiing, tubing or toboggan sleds as an alternative (I plan to try) so surely everything will be as spectacular as I imagined and something to look forward to.
A two year adventure or perhaps longer, it is always good to keep any/all options open to make changes or add new locations or opportunities for travel. I have been encouraged to set up a travel blog with pictures as well, so as one friend put it, it would be like traveling with you or places one has only dreamed of going to, so look for me on the internet if you're interested. The last item on my bucket list is to write/publish at least one book (hopefully more) but with writing a blog, perhaps this option is more realistic than I realize at this point. It has been my pleasure and joy to write this column in 'Associates' for the past 10 years enjoying each experience and hope you have too. The people, places I have been through library association conferences and general travel have been priceless. I have grown so much personally and professionally over the years, I want to see the world or as much as I can before old age catches up to me and completely makes me unable to travel. Traditionally I always visit libraries when I travel, so if you see me in your area stop by and say "hi".
No matter the holiday(s) you celebrate, in your area of the world throughout the year — may they be the best ever. Enjoy all life has to offer to the fullest every day especially good health, possible opportunities for wealth, enjoyment and appreciation of your family/friends with happiness in everything that you do!
Happy New Year 2020 to all! All the best, take care…
313 views