ASSOCIATES (2020, March, v. 26, no. 3)
Spotlight
Cyndi Maccluggage, West Hartford, Connecticut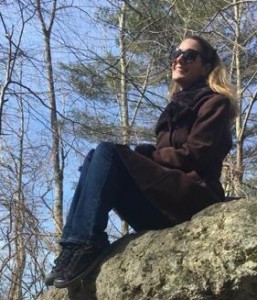 University Cataloger, Harrison Libraries
University of Hartford
Where do you work and what do you do?
I work at the University of Hartford Libraries, in West Hartford, Connecticut, United States of America. I'm the University Cataloger for most library resources – books, eBooks, journals, DVDs, etc. – except for music, dance, and archival resources.
Most of my work involves creating/importing records to our online catalog, as well as maintaining the existing records. Ensuring quality data and appropriate classification of the materials is my focus. Additionally, I'm the subject selector for mathematics, philosophy, and religion. I also help out a bit (as needed) with serials, acquisitions, and interlibrary loan. (I feel very lucky because there's nothing I do that I don't enjoy!)
How did you get involved in library work?
When I went to college and graduate school, I majored in math and didn't make use of libraries as much as folks in other majors might have done. As a result, I left school knowing very little about how libraries worked; I didn't even know there are people on staff to help me with my questions!
About 12 years ago, I got curious enough to wonder about working within a library – what better way to figure it all out. At the time, I'd been working in college bookstores for over 10 years, and the library was right next door to the bookstore in which I worked. The library director was kind enough to let me speak with her so that I could gain some insight on how libraries function, and see if it seemed like something I'd enjoy. During this conversation, she mentioned that they had a couple of entry-level job openings and suggested that I apply. I applied and was hired for the "Serials Specialist" position, and about 5 years ago was promoted to my current position of University Cataloger.
Staff professional development activities in the area?
The Connecticut Library Association has an annual meeting that's specifically for support staff; I've attended it most years since 2008. I'm also encouraged to participate in job-relevant online classes such as those offered by the American Library Association (ALA), and Association for Library Collections and Technical Services (ALCTS). My University offers classes for updating more general skills, ex. computer skills, interpersonal skills, etc.
Final comments
I'm really proud to work within the library realm. Libraries enable current, accurate information to be accessible to anyone and everyone, which in my opinion, is crucial to the welfare and growth of both individuals and society.
232 views