ASSOCIATES (2020, March, v. 26, no. 3)
Spotlight
Kathy Rossello, East Greenbush, New York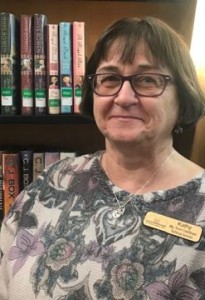 Technical Services
East Greenbush Community Library
Where do you work and what do you do?
I work at East Greenbush Community Library in Technical Services. My workday involves processing new materials, maintaining on order records, repairing books, deleting withdrawn items from the catalog, attending meetings and training workshops as required and performing other related duties as needed. I am also the Monthly Art Exhibits and Meeting Room Coordinator. Before working in Technical Services, I worked the Circulation Desk, and still help out when needed.
How did you get involved in library work?
My love of books and the library goes back to my childhood. Our local library was a few blocks from my home, I was able to walk and check out as many books as I could carry.
When my children were young, I would bring them to Story Time at the library with Miss Sue. I wanted to give back to the library and that is when I decided to volunteer my time there in the evenings when the children were younger.
After volunteering at the library for two years, a part time position became available in the Circulation Department. I applied and started working in August of 1998.
Describe the staff professional development activities in your area.
In New York State we have the New York State Library Assistants' Association (NYSLAA). I have been a member since 2009. I received my Certificate of Achievement specializing in Technical Services in 2011.
After receiving my Certificate, I became a member of the Certificate of Achievement Review Board.
I have been involved with NYSLAA conferences in the past years, planning and attending many wonderful workshops. I have met many mentors in the process. I am now serving as Vice President for NYLSAA, it's a very rewarding experience.
Final Comments.
I have learned many valuable lessons in my work as a library assistant. There is so much more to learn and many ways to achieve it. Libraries are for everyone!
330 views