ASSOCIATES (2020, March, v. 26, no. 3)
Feature
The Panama Canal and Covid-19
Allison Sloan

Well, much as I'd like to chat with you all about something else, there seems to be one thing on the world's collective mind: Covid-19.  Here's my story:
I was on a Holland America cruise to the Panama Canal at the beginning of February when people who still listen to world news when on vacation – who are these people? – mentioned the Diamond Princess cruise ship was stuck in Yokahama, Japan due to the Coronavirus.
What's that?  Was the first question.  We really didn't think much of it, and enjoyed a remarkable transit through the Canal.  Entering from Colon on the Atlantic Ocean, we went through the Gatun Locks into Lake Gatun on the big ship of 2800 passengers and crew.  I was amazed by the locks, and by the concept of damming the Chagres River to flood a mountainous valley to form a lake. The tops of the mountains are now seen as small islands.
In Lake Gatun, we disembarked from the ship to board a 200-passenger ferry boat, half the size of the ferries that cross the Long Island Sound.  Then continued through the Canal at the Culebra Cut, transiting the Mira Flores and Pedro Miguel locks to the Pacific Ocean.  We were quite crowded sitting on folding chairs on the deck, in the hot, humid climate. "Social distancing" was not even a word in our vocabulary.  We all hung over the edge to touch the wall of the locks, giving way to let a fellow traveler take a photo, never thinking of not touching, we shared cameras and phones to take pictures of each other, and reached into the big tub of ice to grab a water bottle.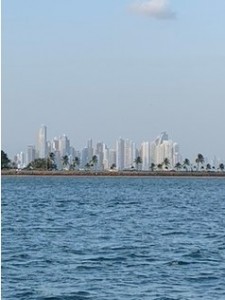 Here's the photo I took of Panama City glistening in the sunlight, as we exited the Panama Canal to the Pacific Ocean.
Back on board our cruise ship, we stopped at Curacao, Aruba, Cartagena and almost made it to Costa Rica, but the sea was too rough and we couldn't dock.  Then headed around Cuba and back to Ft. Lauderdale.  Corona virus didn't even enter our happy hour conversation on those last days at sea, homeward bound.  Everyone was healthy and happy.  We stood next to each other in line at the international buffets on the dining deck, and shared tables with strangers.  We played table shuffle board and backgammon, placed our chips at the roulette table, and never wondered who had held the game pieces before us.  We tried on rings and bracelets in the jewelry shops and bought souvenirs, and sipped champagne by the pool and never considered "self-isolation" or wearing a mask.
And we disembarked to a changed world.  Back home, my vacation over, I headed to work and spent a busy week catching up on orders, invoices, and emails.  The next week things started to feel scary.  Suddenly we were washing our hands for 20 seconds, and wondering if we should wear a mask.  It was concerning, but we were frankly more worried about the fires in Australia and our dear paralibrarian friends in Sydney.
I left work on Wednesday, March 11th.  My Department Head texted me that evening to say I should work from home the next day, and attend my Thursday meeting online.  I have worked in that library every week for almost 30 years, but that's the last time I was there.  A month later it feels like a year later, a confusing memory of when I used to push around a DEMCO book cart, email patrons to pick up their interlibrary loan items, sit at the service desk and answer the telephone or help a patron find a biography in the stacks.
That was the end of "normal" and the beginning of social distancing, self-isolating, staying home, washing my hands for 20 seconds or wearing gloves and masks, spraying doorknobs and grocery boxes with disinfectant, not letting anyone pet my dog.
Part Two of the story is what I'm doing to keep busy during a worldwide pandemic.  I bet you have some stories to share as well.  Let's save that for another issue of Associates.  For now, I wish you health, safety, and someone to hug.
Stayhomewashhandsselfdistance is the new way to say goodbye.  Hope to shake your hand soon.
195 views