ASSOCIATES (2007, November, v. 14, no. 2)
Conference Report
COLT and ALA conferences: a personal perspective
Kevin Dudeney
NSW Department of Corrective Services
Kevin.Dudeney@dcs.nsw.gov.au
Thirty-one paraprofessionals attended the COLT 40th Annual Conference, Library Support Staff: an essential piece of the Library Landscape, at the Westin Hotel in Washington DC. Delegates came from the following states: Florida, Washington DC, Ohio, Arizona, Virginia, California, Illinois, Rhode Island, Washington, New Mexico, North Carolina and Australia.
Sessions included: personal reflections on the profession and paraprofessionals and a call for all members of the profession to get involved by John Berry III, Editor at Large, Library Journal; the good things and what you need to lookout for when operating a Book Mobile service in a city such as, Washington DC.; OCLC First Search and Connexion Client update; the digitizing of large collections to allow greater access; audio books and a video on demand service; power and politics of organizations; a crash course in Children's Services; services to blind and physically handicapped, acquisition and bibliographic access and conservation at the Library of Congress.Included in the conference was a tour of the Supreme Court and Library and the COLT General Membership Meeting. The Conference Dinner was held at McCormick & Schmick's Restaurant.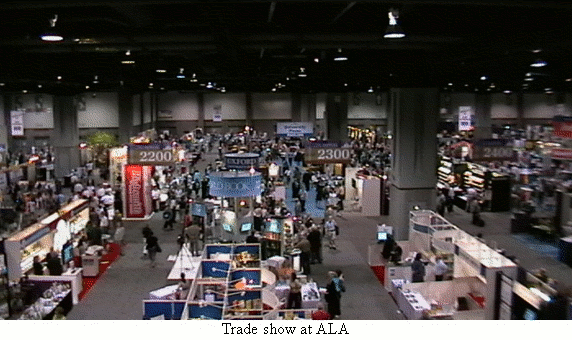 Attending conferences in Australia cannot prepare you for the experience of attending an ALA Annual Conference, 30,000 delegates, the size a town in Australia or any other country, a trade exhibition of over 1,500 exhibitors that you could not completely walk around let alone visit in the time available, so many sessions that you had to plan in advance as there was no opportunity to say, 'I'll duck in an see this one', as it may well have been held offsite a couple of blocks away.Over the last few years LSSIRT (Library Support Staff Interest Round Table) have held a conference within a conference. For each year the conference has a title of Empowerment and this year it was Empowerment 2007. The specific name was 'Mama said there's be days like this (but I didn't believe her)'.As I subscribed to the full ALA Annual I was able to attend session from both the Empowerment 2007 Conference, as well as, the ALA Annual.The sessions I attended included ones on Library 2.0, blogs, e-learning, leadership and promoting your library.I was fortunate enough to be asked, along with a few others, to attend the reception and presentation of the Paraprofessional of the Year Award to Jackie Cornette. Jackie is the manager of the Western Branch of Watuaga County Library in Sugar Grove, North Carolina. The Award is sponsored by The Library Journal.
One of the highlights of the conference was the Book Cart Drill Teams. Four teams from different parts of the country, perform choreographed routines to music pushing a book cart (shelving trolley). The winners were the Book Divas from Texas.This year the LSSIRT Night Out was held at City Lights of China Restaurant at Du Pont Circle.As happen at the COLT Conference I attended LSSIRT meeting. Currently LSSIRT has over 800 members and as this represents more than 1% of the total ALA membership they are entitled to have a Councilor on the ALA Council. This is very significant for LSSIRT members and library paraprofessionals.A few people asked why I was at ALA Annual. The answer is very simple. After you have attended conferences in Australia, participated on conference committees, participated at a senior level in the professional association and to obtain a greater understanding of what is going on in the profession you just have to go overseas. Both the COLT ands ALA conferences were able to provide that understanding.
---
Kevin Dudeney is an Australian Library Technician from Sydney, New South Wales. He is employed by the NSW Dept. of Corrective Services and the Convenor of the ALIA National Library Technicians Group. To see details of the sessions he attended and visit his blog, go to: http://ausltwashingtondc.blogspot.com/
963 views