ASSOCIATES (2009, July, v. 16, no. 1)
Review
If You Keep Doing that, Your Face will Stay that Way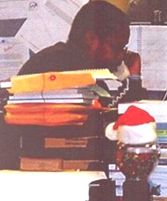 Michael D. Brooks
Saint Joseph's University
Philadelphia, Pennsylvania
School's out. The temperature is up. The kids are bored. Summer just started, and you've got a bunch of crumb-snatching, rug rats running around your library (or your house). What the heck are you supposed to do? Get them to make faces. No, not at you, but with you. Point them to: Mr. Picasso Head (http://www.mrpicassohead.com/create.html). It's quite entertaining and habit-forming.
Everyone starts off with a blank canvas. To the left of the canvas is a list of categories: face, eyes, nose, lips, ears, etc. I think you get the picture. If not, you eventually will. Simply select one of the nine images from each category and drag it to the canvas. Once on the canvas, you can arrange or rearrange your selected image until you're satisfied with its location.
With each selection comes a few choices. You can reduce or enlarge an image, flip or rotate it, give it color, change the color, or delete anything you're not satisfied with. If you're totally unsatisfied with your work of art, you can simply erase the whole picture and start over.
Once you've created your masterpiece, you can sign it like Picasso. Click the Signature link at the bottom of the list of categories, type in your name, and viola, your name is signed at the bottom right of your canvas in Picasso's signature style.
If you're proud of you masterpiece and want to show it off, you can email it to friends and family. If you want to know what others have done, there is a gallery. If you want your picture "hung up" in the Mr. Picasso Head gallery, click the "Save My Painting to the Gallery" button.
There is one caveat. According to the Terms of Use policy (http://www.mrpicassohead.com/terms.html), all content in the gallery is the responsibility of the individuals who create their paintings. So there might be paintings hanging in the gallery that might be considered objectionable by some.
I found nothing objectionable during my time on the site. The only issue I had was with the back and next buttons on the Gallery Page. They didn't work. Otherwise, I found the site quite fun to visit.
1,284 views