ASSOCIATES (2005, November, v. 12, no. 2) - associates.ucr.edu
*'Desperate Librarians' Calendar 2006*
http://www.desperatelibrarians.info
Product review
by
Jean Turner Weiss
Science Library
University of California, Riverside
jweiss@ucr.edu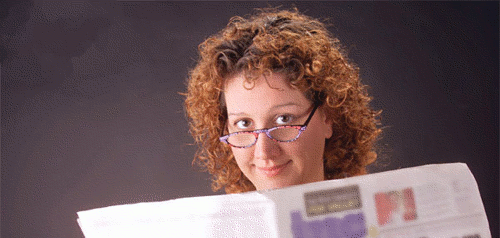 When I first learned that a group of librarians from Wisconsin decided to bare some skin to earn money for their cash-strapped libraries, I recalled the community-conscious women posing nude or partially nude for calendars for medical causes. The Ladies of Rylstone, England raised funds for leukemia, the "mature" Air Canada flight attendants for cancer research, the Big Sky women of Montana for fighting breast cancer and the women from Horsley, England for rape victims in Rwanda.
Surprisingly the Desperate Librarians' calendar originated as a gag gift for a retiring colleague with a sense of humor. Countryside Photographers in Seymour, Wisconsin volunteered its professional expertise. "Fun and clever" photo shoots resulted in twelve portraits of library directors hiding playfully, rather than seductively, behind giant picture books and props reflecting their personal interests. The colorful graphic designs combine artistic appeal with easy readability of days, months and holidays. The librarians were so pleased with the result that they decided on further exposure, marketing their calendar to raise funds for public libraries in central Wisconsin.
These Desperate Librarians have humorously called our attention to the financial woes of libraries. Their website (http://www.desperatelibrarians.info) offers an excellent description of the calendar and even includes the directors' current reading recommendations for bibliophiles. An order blank is provided for the $20 calendar (plus shipping) and other items such as apparel, mugs, hats, bags and magnets, all bearing the motto, "The Book Stops Here". Calendars can also be ordered from Desperate Librarians, E6282 Slough Road, Weyauwega, WI 54983 with the same shipping charges--$2.50 for the first copy and $1 for each copy thereafter. Six friendly librarians have successfully shared their Wisconsin wit for this worthy cause.
---
About Us | Subscribe/Unsubscribe | Editors | Submit | Current Issue | Archives | Home