ASSOCIATES (2005, July, v. 12, no. 1) - associates.ucr.edu
*Market Your Library With A BLOG*
by
James LaMee
Reference Librarian
Belmont Abbey College
Belmont, N.C.
jameslamee@bac.edu
You can market your library with a weblog. Blogs are a natural evolution in marketing and public relations for any library and an effective means of extending the reach of library instruction.
Blog Definition
The Oxford English Dictionary Online defines the noun blog as, "2. A frequently updated web site consisting of personal observations, excerpts from other sources, etc., typically run by a single person, and usually with hyperlinks to other sites; an online journal or diary." blog n. (short for weblog) On the Internet, a blog is a personal or professional journal that is frequently updated and intended for general public consumption. The essential characteristics of the blog are its journal form, typically a new entry each day, and its informal style. Many blogs include photo, audio, and video information.
Why Blog?
Marketing and public relations are the two main reasons a library should have a blog. Many communities neither understand what librarians do, nor how valuable a public or academic library is to their community. A blog is a great way to provide up to the minute news about your library, company, or organization. A blog can constantly underscore the importance of freely available information and the people who acquire, disseminate, classify, organize, and retrieve information. Blogging software is easy to use and very flexible.
You can create a blog for your organization and tailor it to do exactly what you want. Do you want to inform your audience about new policies in your library or company? You can do it with a blog. Do you want to tell your audience about changes in your electronic holdings or new books? A blog can do that. Do you want to give your employees ready access to in-house information about the organization, products, policies, or human resource concerns? A blog is the best way. The audience you aim for could be students, faculty, librarians, patrons, sales, and/or marketing personnel. Think of a blog as an inexpensive newsletter and a versatile information management tool. It is that, but it is also much more.
A blog provides a quick way to get information in front of your community. If a community event being held at the library has a last minute cancellation, that change can be posted to the weblog within minutes. Some of your patrons will see it and save themselves a trip to the library. Library news of all kinds can be posted rapidly to the weblog and with the addition of Really Simple Syndication (RSS) weblog content can be distributed (broadcast) to subscribers as soon as it appears in the blog. This is value added library information creation.
Library instruction is another reason for publishing a library blog. General information literacy or specific class/assignment resource teaching is a never ending job. Our time with students is limited, so a blog can become an additional tool for getting instructional information in front of the people who need it most and want it whenever they sit down to do an assignment or write a paper. A few screen captures and some explanatory text can lead a student to the best resources and demonstrate how to use those resources. These mini-"lectures" can be uploaded to your blog or put on the library server and linked to your blog. This can provide your library with a Bibliographic Instruction presence 24/7.
A library blog can be designed to meet the specific needs of the community. The library blogger must understand the needs of different patrons in the community and tailor the blog to meet those needs. One example might be cutting edge community alerts that can be RSS'd to all interested parties, such as warning the academic community about interruptions in normal services, i.e. informing the community when database resources are unavailable or alerting patrons to the availability of new resources.
A news aggregator that focuses on scholarly or academic news could be helpful to students, faculty, and administration. Or, a news aggregator that focuses on local and regional news in rural areas that only have a weekly newspaper. A blog could also have a search feature for locating archived information. Creative thinking about how a blog could benefit your library in your unique situation will be time well spent and improve the library's relationship to the community.
Blog Site Features
A blog has geography just like any static website and features several specific "territories" that in combination create the uniqueness that is a blog. These features are a site title (which is usually your URL), a time and/or date stamp, primary space for author postings, and a sidebar (sometimes two). The sidebar may include a search feature (recommended), links to other people, departments, library catalog, databases, or other interesting internet resources. It could provide links to other libraries in your region or other companies/organizations in your field.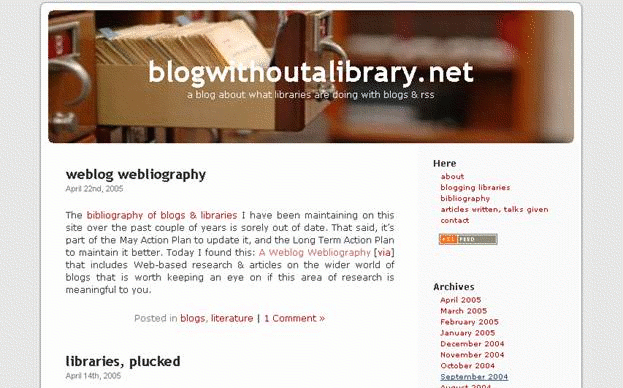 It usually includes a list of archived postings as well as whether any aggregators (see software) are currently covering the site.
RSS (Really Simple Syndication) is a small piece of XML (Extensible Markup Language) code designed for syndicating headlines and other web content. This code is built into many blog software packages and do not require that you become expert in XML. Knowing some HTML (Hypertext Markup Language) and XML helps, but is not required.
Blog Software and Hosting
There are many software "packages" or brands for creating blogs; some are free and some cost, and some of both include free hosting (placing and running on a server) or you can host your blog on your own server. Let's look at easy solutions first.
Blogger © is owned by Google© and is completely free for a basic account that includes hosting. This may be all you need for library news and links to library information. The following link is a basic Blogger© account -- http://distanceedlibrarian.blogspot.com/ . There are other Blogger© templates that can be used to change the look of your blog.
There are other free blogging software packages that do not include hosting. Greymatter is one and many people use it, http://www.noahgrey.com/greysoft/, but you must run it on your own server or a compatible commercial server. Blosxom is another free application without hosting (http://www.blosxom.com/) as is Pivot (http://www.pivotlog.net/) and Wordpress (http://wordpress.org/).
Typepad (http://www.sixapart.com/typepad/) a product of Six Apart, is available with hosting for a small fee (roughly $5 a month for a basic account). Many bloggers favor this application and it can be scaled up (more bandwidth or more sophisticated features) for moderate increases in fees. Six Apart also supports LiveJournal and Movable Type. Movable Type is a fully functional web publishing application.
Radio (http://radio.userland.com/) and Manila (http://manila.userland.com/) are both products of UserLand Software (http://www.userland.com/). These are sophisticated web publishing tools with many excellent features for weblog publishing. Radio costs about $40.00 a year not counting hosting and Manila involves site licensing for multiple weblogs and is considerably more expensive.
The simplest product that costs is Squarespace (http://www.squarespace.com/). Squarespace requires no download of software and no separate hosting. You create your blog on their website using their modular system and when you finish your site is up and running. This is a very good looking product. The cost is on a sliding scale based on the combination of features you wish to use and the amount of bandwidth your site actually uses. This allows a user to start small and scale up as necessary.
Conclusion
A library blog is a value added service for any library. We serve our patrons by providing information, entertainment, and a place where curiosity and knowledge is encouraged. A blog helps us maintain good communication with those who use our services and who can become our allies, because they appreciate the services we provide. With library services and budgets under fire we blog to remind our communities of our value.
Bibliography
Blood, Rebecca. The Weblog Handbook: Practical Advice on Creating and Maintaining Your Blog. Perseus Books Group, 2002.
Bausch, Paul and Matthew Haughey, et al. We Blog: Publishing Online with Weblogs. Wiley, 2002.
Fichter, Darlene. Blogging software for intranet applications: You can put your own crative juices to work thinking up ways to use Weblog software. (Intranet Librarian). Online, Jan-Feb 2003 v27 i1 p61 (Accessed June 6, 2005).
Fichter, Darlene. Why and how to use blogs to promote your library's services. Marketing Library Services, Nov/Dec 2003 v17 n6. 7 June 2005 <http://www.infotoday.com/mlsnov03/fichter.shtml>.
Hewitt, Hugh. Blog : Understanding the Information Reformation That's Changing Your World. Nelson Business, 2005.
Stone, Biz. Who Let the Blogs Out? : A Hyperconnected Peek at the World of Weblogs. St. Martin's Griffin, 2004.
---
About Us | Subscribe/Unsubscribe | Editors | Submit | Current Issue | Archives | Home