ASSOCIATES (vol. 10, no. 1, July 2003) - associates.ucr.edu
*SSIG Workshop: Masithethe – Let Us Speak*
by
Jean Uys
University of Cape Town
jean-m@uctlib.uct.ac.za
The very live and vibrant LIASA Western Cape Support Staff (WCSSIG) had its first activity for the year on 9 April 2003 at the UWC Library Auditorium. The idea for the theme of the workshop came as a result of a call made by delegates at the Shelvers' Workshops held jointly by the LIASA Western Cape Support Staff Interest Group and CALICO. Delegates felt that it was necessary to establish a forum in which ALL library staff could meet to discuss/debate issues, which were presently causing a rift between staff at different levels. Issues raised at the Shelvers' Workshops highlighted the dissatisfaction that many support staff feel in the work situation, not just with co-workers but also with the slowness of libraries to adapt to the changing world out there. Questions asked were:
Why do employers prefer qualified people for certain posts? Does years of experience not count.
What qualities should a non-professional have to be promoted?
The role of SAQA.
Getting a better understanding of RPL and how it is being implemented at workplaces.
Why a professional qualification is important?
What is the role of support staff in libraries?
The WCSSIG heard this call and took it forward by organising a panel discussion, which would give answers or clarification to most of these questions.
As you would see from the above questions the panel would have to be representative of the various sectors of libraries, namely, Employer, Academic, SAQA, Support Staff and LIASA. The panel included Joan Rapp, Executive Director UCT Libraries representing the Employer, Genevieve Hart, LIS lecturer from UWC, representing the Academics, Seamus Needham representing SAQA (South African Qualifications Authority, Cherezaan Basadien (a participant from the June Shelvers' Workshops) representing support staff and Nondumiso Sinyenyeko representing LIASA Support Staff Interest Group in her capacity as national chair.
Attending were library workers representative from all types of libraries and from as far afield as the University of Venda and the Knysna library. The following Western Cape libraries also sent staff:
University of Stellenbosch
University of Cape Town
Library of Parliament
EDULIS
University of the Western Cape
Jacob Githi Library
Rondebosch library
Investec
Wesfleur library
Mamre library
De Beers Marine library
HBC
Cape Town High School library
Each panel member very briefly made introductory remarks around the topic from their particular area of expertise. Nondumiso Sinyenyeko as National Chair of the SSIG gave a brief overview of LIASA concentrating on the SSIG, its goals and objectives. She also mentioned a program which has been implemented by LIASA called the Continuing Education Program (CEP) which will benefit both professional and non-professional library workers. She pledged to take forward the outcomes of the debate for discussion at the LIASA Representative Council meeting of which she is a member. Cherezaan Basadien highlighted both the positive and negative sides of working libraries in a support staff position. On the positive side libraries have as its ultimate aim the job of helping people and this creates a challenge for anyone working in a service oriented job, negative aspects are the lack of career pathing for those in support staff positions and a lack of recognition and acknowledgement of a job well done. She ended her introduction off by using a graphic, which highlighted how important those in support staff positions are in the staff hierarchy of a library. Support staff has to set goals and work towards achieving them. Seamus Needham gave a brief overview of SAQA and the NQF (National Qualifications Framework) explaining how everything fit together. He concentrated on RPL (Recognition of Prior Learning) as a means of removing the barriers to education training and career progress. The RPL is not about taking people whom has worked for 20 years and automatically placing them in a managerial position. It is much more structured. A RPL candidate would have to go through the same type of assessment as a student doing a formal qualification in LIS. SAQA is not the body to approach to get a RPL assessment done, this is done by assessors at institutions providing training and education in LIS.
The next two speakers in a sense gave meaning to the words LET US SPEAK. They raised the controversial issues, which lies hidden in the LIS sector. Genevieve Hart emphasised the importance of having qualifications in any profession. The library profession takes the risk of losing its character if qualifications are done away with. There are certain core competencies needed in every profession. Experience alone cannot give you these competencies, they need to be learned. Qualifications are good for personal growth, makes one more analytical and the person with the qualification develops into a thinking and committed professional. Joan Rapp disagreed with the term support staff being used to describe staff in non-professional positions and felt that para-professionals better described them. She felt that the term support staff encompassed all library workers as libraries and its entire staff provides support whether it is an institution, company or municipality. Professionals are hired as Librarians because of their skills, conceptual understanding of the field, theory and practical knowledge which they have. In certain institutions paraprofessionals have been hired in position of Librarian as they are cheap labour and can be exploited which in a sense undermines the profession. A sense of pride needs to taken and maintained in the profession.
At the suggestion of the facilitator, Naomi Haasbroek, the group was split into 2 and asked to deliberate and discuss the following issues:
Definition of support staff. Who are support staff?
Is there a need for the name of the IG to be changed?
What is the role of support staff in libraries
Working relationship between professional and non-professional
Lack of recognition and how to overcome this
Lack of opportunities for support staff
Role of SAQA
RPL
What is a professional Librarian?
What training needs do support staff have
Questions and answers from the workshop are below: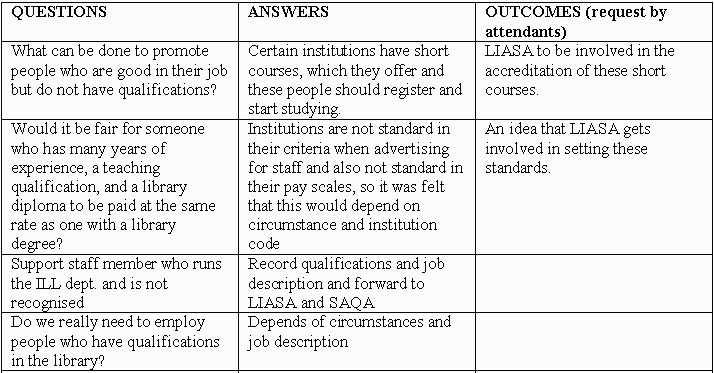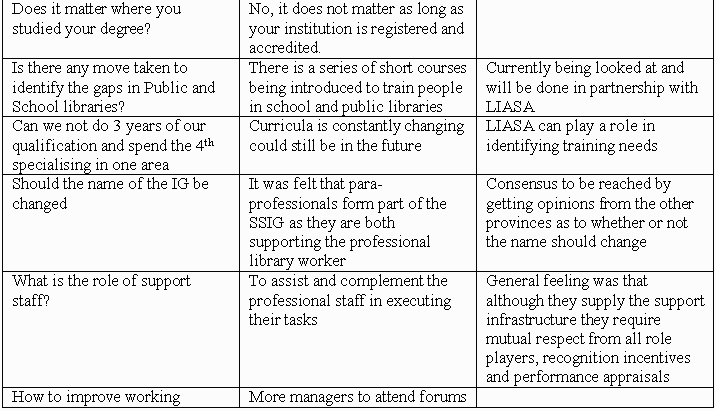 Any comments regarding this workshop, please address your queries to Jean Uys at 6503126 or e-mail jean-m@uctlib.uct.ac.za.
A video was made of the entire workshop and will in time be made available on the LIASA website.
Explanation of Terms:
LIASA = Library and Information Association of South Africa.
WCSSIG = Western Cape (South African province) Support Staff Interest Group (The purpose of interest groups is to promote library and information services and/or library and information science within and for a particular type of library or information service, or relating to particular categories of users, types of materials, functions, activities or other matters of interest.)
CALICO = Cape Library Cooperative (It is a co-operative venture between the five tertiary educational institutions of the Western Cape, viz. the Universities of Cape Town, Stellenbosch and the Western Cape, and the Cape and Peninsula Technikons.)
If there were any other terms that need explanation, contact Jean Uys directly.
revised 7/30/2003
---
About Us | Subscribe/Unsubscribe | Editors | Submit | Current Issue | Archives | Home