ASSOCIATES (2010, November, v. 17, no. 2)
Spotlight
Julia D. Ree, Riverside, California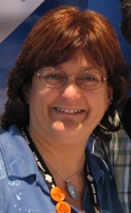 Cataloger
University of California, Riverside, CA.
jdree@ucr.edu
Where do you work and what do you do?
I work at the libraries of the University of California, Riverside (UCR). Currently, I am a Cataloger for our Eaton Collection of Science Fiction, Fantasy, Horror, and Utopian Literature. This is our jewel-in-the-crown, world renowned speculative fiction collection. It's housed in our Special Collections department and is a level 5 comprehensive collecting juggernaut of a collection! About 7 years ago, the powers-that-be asked me to "help out" by selecting for the collection, on a temporary basis. Fast forward to today and now I'm also the official Subject Specialist for Eaton. It's been an incredible journey, literally and figuratively. I've been to conventions, meeting SF Fandom and I've discovered a kindred spirit. I often speak with Publishers and Vendors, trying for an added discount and I've discovered that I'm pretty good, for the most part in also getting a donation or two each time I try. It seems I'm quite suited for this lifestyle! For a Library Assistant to enter the world normally held in reserve for Librarians is nothing short of amazing. It shows that there are opportunities out there for all of us, as long as Management sees the potential and isn't blinded by a lack of credentials.
How did you get involved in library work?
I originally came to library work as a student, in Munich, Germany, while attending my first two years of college. I was an Air Force Brat, getting my AA before heading back to the US to finish my degree. I needed money as most of my generation did while in college and it seemed like something I could do while going to school. Hard to imagine, given our general lack of pay, but yes, I was "in it" for the money! The two year gig in Munich gave me enough experience to apply for a library job, again, as a college student, at UCR. I've been at UCR for over 25 years. During that time I've worked in a variety of departments, both public and technical in nature. My first job for the library was in Reserve Services, handling the overdue fines. I've seen the coming of online systems, both CLSI in Circulations and INNOVAC for Acquisitions ordering. Now, of course, being in Cataloging, OCLC and INNOPAC are two of my required tools!
Describe support staff activities in your area.
Well, this is a tough question to answer, because we used to be so very active, and we are not these days. As you may guess, having worked at UCR for over 25 years, I'm not exactly the new kid on the block. When I was younger there was a LOT more activity. I was part of the Executive Board for the Council on Library/Media Technicians (COLT)—as Membership Chair. We could count on at least one workshop if not more per year. We could also count on a yearly national conference. But activism in general seems to have diminished. Perhaps we are too busy, or our lives have taken a different path. Some older activists have retired or are just plain burned out. Or maybe we are fighting different battles. Whatever the reason, there just isn't as much activity as there was before. Of course, there are staff-related activities that are US-national and there are groups still fighting the good fight. The American Library Association (ALA) and the Library Support Staff Interests Round Table (LSSIRT) are trying to establish and maintain a certification program for Library Support Staff, originally conceived and begun by COLT. You hardly hear from either LSSIRT or COLT these days, perhaps for the same reasons as I stated above. I'm not sure why the banner has not been picked up by the next generation, especially with the tools at our disposal. Emails, wikis and blogs, the ways of getting information out there seems to be easier now than ever before, but the communication is lacking.
Final comments
I realize that my work environment is a dream-come-true and I know I am extremely lucky to be in this position. How many people can say that they are the keepers of a special collection that is the premier SF collection in the world? Still life is not perfect and this is the thought I want to leave with Associates readers. The issues that Library Support Staff face today are the same as they were 25 years ago. There is a need for acceptance and a need to be recognized for the very important and professional work that we do. There are issues of equity of pay and equity of responsibility in a team environment. Bluntly stated, you can't do the work of a library without all the little cogs making the wheel turn. We are all part of this team, from the Head Librarian to the person shelving the books. I don't have the answer to this dilemma, but aligning yourself with an organization will help you feel not so very alone in the same struggles that others across the globe are facing. And to the next generation, these organizations desperately need your help. They need your strong backs and stronger opinions. They need you to carry the torch that was so ably carried up until now. Join LSSIRT. Join COLT. Be active members. Only you can step up and take the challenge.
878 views