ASSOCIATES (2010, November, v. 17, no. 2)
Feature
What's So Great About An Award?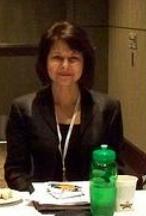 Allison Sloan
Senior Library Associate
Reading Public Library
Reading, MA, USA
The question I ask myself when I am lucky to receive an award is: How can I use my 15 minutes of fame to accomplish something; to do good for my cause? As the recipient of the Library Journal 2010 Paraprofessional of the Year award, I can assure you that it is great to get an award! This particular award involved my photo on the cover of the premiere national librarian's magazine. But even getting an award that involves less fan fare not only feels great, it creates a ripple affect and offers opportunities for the recipient and the organization giving the honor.
For a committee or organization to give an award, it has to be established, organized, contributing and doing good work, with a dedicated membership. The ability of a group to give an award deserves kudos in itself. Award giving shows confidence, a focus on the mission of the group, and a team attitude of inclusiveness and outreach. The award ceremony highlights the work of the committee. Just the publicity of calling for nominations expands the community's interest in the committee's mission. To be nominated is an honor and a bonding experience for the people who complete forms and write the letters about their coworkers. It highlights successes.
Let's consider the benefits to the recipient of an award. I hesitate to say "winner" because usually there is a hard choice to make on the candidate selected. Nominations flow in, with heartfelt testimonials touting the work of great people. All the nominees are winners, yet only one can be selected to receive the award.
The honored recipient gets cheers, and applause and spotlight. Its encouragement and acknowledgement from a group that does the same work you do, and recognizes that you are a leader. What else? It's an opportunity to be heard and listened to. A sudden validation and legitimizing of things you have probably been saying all along, but suddenly people are listening. Doors are opening. Phones are being answered. People are nodding and eager to hear more … because even though you are as smart and dedicated as you were before you got the award, now you have proof that you know what you are talking about! They gave you an award!
In 2004 I received the Massachusetts Library Association (MLA) Paralibrarian Section "Paralibrarian Advocate of the Year" award. My goodness, that's a mouthful. But I say it proudly and pronounce every syllable, because I am working hard to have the term "paralibrarian" recognized in the field of librarianship. I help people understand that working as a paralibrarian is a career, not just a job.
I got an award for it, and I get to say it plenty. First I got to say it right there at the award presentation, among my peers in the MLA Paralibrarian Section. Then I got to say it to all conference attendees, when I thanked everyone at the MLA Annual Meeting: librarians, paralibrarians, commissioners, guest celebrities, authors and more. Then I got to say it for my library staff, the trustees and the town Selectman, and the local newspaper reporter who interviewed me about: What's new at the library. And the circle of opportunity grows. Recently with the Library Journal Award, I got to say it to people at the ALA Conference, and now I have the chance to tell you, in Australia and around the world.
So, why is it so great to get an award? Awards are a vehicle to spread a message. They create a podium for all involved: I've been working to tell you all about paralibrarians; the committee has gained prominence enough to give an award to support their work for paralibrarians; the award validates my perspective and gives me a way to send my message to a broader group of listeners; which circles back to support the mission of the organization and to bring success to our joint goals.
Give an award. Get an award. Make the 15 minutes of fame work for you and let the waves of your message reach far and wide to create successes.
1,051 views