ASSOCIATES (2010, November, v. 17, no. 2)
Review
A Website for the Scientifically Curious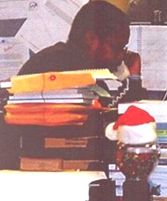 Michael D. Brooks
Saint Joseph's University
Philadelphia, Pennsylvania
 There is no mystery meat on this site.  What you see is what you get.
 The homepage explains the purpose of the site.  There's no need to go hunting for what they are about.  It's clearly spelled out in the second paragraph of the page.  However, if you're one of those people who needs to know the specifics, the About link just below the masthead and search bar contains more detailed information about the site.  They are kid and family safe.
 There's everything from A to Z here—literally.  If you've ever wondered about Analog versus Digital Technology, there's a link for it.  Curious about what Zinc is and what it's used for?  There's a link for it.
 Halfway down the page is a list of their top ten "Most Read" articles, which includes information about water and air pollution, power plants, solar cells, and electricity, as well as other areas of interest.  If you're not satisfied with just their top ten, click the more popular articles link to read even more.
 If you just want to browse and have no particular interest in mind, the Random Article link at the top of the page will do just that:  take you to a random article.  You can continue clicking the link until something catches your interest.
 Further down the homepage, is a "What Else is on Our Site?" section.  Here, there is a broad list of subject headings each followed by paragraph-sized lists of links to articles related to their associated subject.  For instance, the heading for Computers contains no less than 32 links.  One of those links is to an article about RSS, which is pretty cool considering that the site is also available as an RSS.  The site's article feed is useful if you want to keep current with anything they might publish.  You can read all about RSS then go and do it.
 If science isn't your forte, you can use one of their convenient Buyers Guides.  The holidays are fast approaching.  Thinking about buying a computer?  Click here:  Buying a computer.
 Overall, Explain that Stuff is useful for that school science paper or for the simply curious.  You can spend a great deal of time on the site, learn a lot—and not have to be a geek to enjoy it.
1,095 views