ASSOCIATES (2008, March, v. 14, no. 3)
Spotlight
Carol Waggoner-Angleton, Augusta, Georgia
Where do you work and what do you do?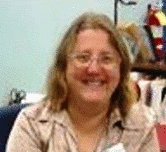 I work as the Special Collections Assistant at Reese Library, Augusta State University in Augusta Georgia. Augusta State University is part of the University System of Georgia and serves about 6000 students. The campus was once the home of the Academy of Richmond County, founded in 1783, one of Georgia's earliest institutions of higher learning and the site of the Augusta Arsenal from 1826 to 1955 so the University has a rich and varied history. Being located on a campus with a rich history makes the purpose of Special Collections (to collect, maintain and preserve primary materials such as manuscripts, papers, photographs, maps and research materials such as books, serials, etc. related to Augusta State University, local history, the University System of Georgia and selected genealogical sources) much more immediate and personal.
The department has a small staff consisting of myself, the Special Collections Librarian Mr. John O'Shea and two student assistants, Amy Grigsby and Jillian Rumbaugh. I think being part of a small staff is a plus because I get to participate in every aspect of the department. Some of the highlights include working with patrons on their research projects and coordinating presentations for Georgia Archives Month I also do original research for these events, publish articles, coordinate workshops, prepare grant applications, arrange and describe collections, create finding aids, prepare project proposals, do archival instruction, create Special Collections displays and supervise my wonderful student assistants. Routine correspondence, data entry, filing, shelving and shelf reading, preparing book orders and ordering office and archival supplies fill what remains of the workday.
How did you get involved in library work?
I earned a BA in history from Saint Mary's College of Maryland in 1990 while my husband, who has been in the Air Force for 24 years, was stationed in Korea. I had started and stopped a number of career paths by the time we were stationed in Guam (1998-2000). The University of Guam was offering a couple of Library Science courses as electives for Education majors and I was curious enough to enroll in those courses. I also took a couple of courses from the USDA (United States Department of Agriculture) Graduate School because they offered a library technician's course. While I was taking these courses, I worked at an informal internship for Andersen Air Force Base Department of Defense Education Activity Elementary/Middle School.
After Guam, my husband was stationed at Molesworth RAF in Huntingdon, England. I was lucky enough to land a job as an Information Services Assistant with a life sciences organization. I was responsible for all library operations, interlibrary loan requests, copyright compliance and materials procurement. My supervisor encouraged me to go to library school and I enrolled in the distance learning Library and Information Science program at University of Wales, Aberystywth. I have completed all my diploma credits and once I submit my thesis I will have my MLS. It has been a very rewarding program but there has been a bit more distance in the equation then I had planned. Three months into the program, we were stationed back in the USA at Fort Gordon, Augusta Georgia.
It was my good fortune to be hired as the Special Collections Assistant at Reese Library. I get to blow the dust off my history degree, work closely with students and community members and be around books all day long. Plus, I have the benefit and support of knowledgeable and generous colleagues. Who could ask for more?
Describe support staff activities in your area
The Reese Library Inreach Committee, of which I'm a member, raises staff awareness about the benefits of continuing education and works to bring programs and workshops to the library which will benefit all the staff. I'm also a member of the CSRA (Central Savannah River Association) Library Association which works to strengthen ties between the public, academic and school libraries of the area. SOLINET (Southeastern Library Network) has been a good source of archives education classes. They have adapted some of their classes to an online delivery format which makes the classes very accessible. I can also count on support from the Georgia Library Association and the Society of Georgia Archivists. These organizations work very hard to provide training opportunities to their membership and the people I have met at their events are a tremendous source of knowledge and support for library issues and conundrums.
Final Comments
I can't stress how important my group of informal mentors has been in my development as a library paraprofessional. This is a good time to thank Candi Aguirre, formerly of the University of Guam, who literally bullied me into a couple of the courses I took; Marilyn Powers, former Librarian of Andersen AFB DODEA Elementary and good friend, who is there for a word of encouragement and a good mental kick in the pants when necessary; and Camilla Reid, Associate Director of Reese Library who has generously guided me to a number of career opportunities. Thanks y'all.
1,343 views