ASSOCIATES (2007, November, v. 14, no. 2)
Feature
Preparing for the Holidays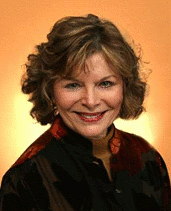 C. Leslie Charles
www.lesliecharles.com
Leschas@aol.com

If the world were perfect we'd all enthusiastically await the annual holiday ritual where everyone joins hands, swaying together, singing "Home for the Holidays" in flawless harmony in front of a glowing fireplace. Okay, maybe this is a stretch. As the holidays draw near, I hear two distinct songs. The first is a cheerful refrain about the anticipation of reconnecting with loved ones, while the second involves a chorus of grumbling about being forced to spend time with relatives who feel more like mere acquaintances than kin. Suffice to say that some of us go home because we wouldn't miss it for the world while others of us grudgingly show up because it's expected.
Family gatherings provide an abbreviated opportunity to touch base with those who share the most significant portion of our historical taproot, our history, and our childhood. We have a chance to reminisce and review, update each other, lend support during a trauma, or celebrate recent triumphs. While these visits are inherently rewarding, there also exists the potential for friction. An accepting, common sense outlook can prevent bad feelings from seeping in to an otherwise special event.
Family Ties
For some people, family gatherings are stressful. Whether you eagerly anticipate family gatherings, or would rather endure a root canal, I'd like to offer a few suggestions that can help keep your holidays from turning into holidaze.
Family gatherings, like many other good things, have a limited shelf life. That is, you're all together for only a little while each year, so try to enjoy (or tolerate) everyone with that spirit. There may be occasional irritants that can incite crankiness but with a little bit of effort you can keep it all in perspective. Yes, Aunt Martha will probably drink just a wee bit too much wine and get weepy as she's done in the past, and Uncle John will most likely talk too loudly and shake your hand too hard as he's always done, but so what? Your older sibs might still try to treat you like a kid, but you can handle that, too. You know that deep down, they care about you, and if they offer unsolicited advice, maybe they're just trying to help.
If you host the holiday and your mom and dad stay a couple of days longer than ideal, go with the flow. Enjoy them now because they won't always be around. Take advantage of their presence and know they have the best of intent, even if you're a full grown adult and they still wait up for you when you stay out late. This is your family and these people care about you. Look at them with a soft lens on your heart. Relax.
If any little currents of irritation stir up, send those prickly little thoughts packing. The very comment that momentarily strikes a nerve today might be something you'll long remember in the future because it's so characteristic of the person saying it. Don't sweat it. Just sit back and enjoy the show. You'll gain a few insights into what makes your parents or siblings tick and you might even learn a few things about yourself.
In Extreme Circumstances, Try the K.I.S.S. Method
If your family falls into the category of "cranky kin," perhaps the K.I.S.S. method will work for you: Keep It Short and Seldom. Limit your number of visits per year. Arrive late and leave early. Shorten your exposure to those who may not always have your best interest in mind. As a preventive measure, pretend you possess a powerful Emotional Immune System and let its powers help protect you from behaviors that may otherwise regress you into a state of emotional adolescence. Remind yourself that you're an adult and no longer need parental approval. Similarly, you no longer have to compete with surly siblings who try to back you into a corner.
Show up if you must, but don't be an active participant. If someone tries to hook you, don't take the bait; let them be disappointed, not you. Should you find yourself getting affected by someone's remarks, casually (not angrily) leave the room. Remind yourself that how other people behave makes a statement about them (and their hang-ups), not about you.
If your situation is extreme; that is, you bear an unhappy past and go home only to be assailed with criticism, put downs, or guilt, ask yourself why you're going out of your way to appease people you'll never be able to please. Maybe it's time to permanently withdraw, but before you take this difficult step, read "If You Had Controlling Parents" by Dan Neuharth who outlines numerous constructive ways of preventing your past from contaminating your present.
Some Thoughts on Gifts and Giving
For some families, gift buying is quid pro quo and while we like to say it's the thought that counts, there's sometimes a price to pay for buying a gift that's too big or too small, or not buying one at all. If you spend too much you're extravagant, and the recipient feels pressured to up the ante next time. If you spend too little, you're cheap and the other party feels insulted. If you don't buy at all, you're a Scrooge and you lose face. You're damned if you do and damned if you don't.
Ideally, a gift is a token of appreciation, commemoration of a special occasion, the recognition of a celebration. It brings pleasure to both parties with no obligation, no hint of indebtedness; no end in mind other than the giving. It's a low pressure, high pleasure experience when done with an open heart. Define what giving means to you so you can give gifts from your heart, not just your wallet. If your budget is limited, keep in mind that some of the best gifts cost very little.
My friend Mary is a bargain hunter. All year long, when she sees something a friend might like she buys it. This item goes into a special drawer for the "proper giving time." This saves her money and eliminates panic shopping.
Then there are free gifts, such as the gift of you: an hour of undivided attention, a sunset walk, a home cooked candlelight dinner, a series of back rubs, head rubs, foot rubs or whatever the recipient treasures. One Christmas, during a period where my three kids and I were living below the poverty line, I created three handmade coupon books of low cost to no cost treats: a favorite meal, special favor, getting to stay up an extra hour, a trip to the museum, experiences I knew they valued. In our commercialized world, such personal gifts can mean far more than more stuff.
The holiday season fosters expectations of celebration and connection, conjuring images of home, hearth, and unbounded happiness, but there's another side, too. This gleeful season can induce blue moods and depression, especially for those who are in the midst of grief or loss. If you are facing the holidays with a heavy heart due to a the death of a loved one, a recent divorce, illness or accident, relocation, or someone dear to your heart can't be home because of military service or other situations beyond your control, here are ten ways you can prepare for, and get the most out of, your holidays in spite of it all.
Ten Suggestions for Handling Loss During the Holidays
1. Anticipate ups and downs. For a start, those stirring, evocative Christmas carols alone are enough to trigger feelings of sadness, guilt, reverie, or loneliness, even in good times! Such blatant sentimentality can really get to you when your heart is heavy with loss. You might need to avoid those stirring refrains and listen to other music you appreciate. Perhaps silence can offer welcome relief, as well.
2. Outline a plan. Structure helps during times of hardship, but this doesn't mean you have to be rigid or over schedule yourself. Take one day at a time. Make plans to spend time with supportive loved ones if that will help, but don't do it simply out of obligation. Create a positive, encouraging phrase such as, "I can handle this," to support yourself when you have a "moment." Repeat these words as needed. This is something I practice faithfully during challenging periods in my life.
3. Give yourself some time to be alone. Too much merriment might not "fit" this year. Set aside personal time for reflecting on happy memories as an outlet for your feelings, but don't let it become self-punishing.
4. Accept reality. Remind yourself that things feel different because they are different. You are under no obligation to try and make things feel "normal" because they aren't. Eventually there will be a new "normal," but not right now. Of course, you'll spend some time in reverie, but you'll also bring yourself back to reality. Instead of asking why, ask yourself how you can best adjust to your new reality with as little anger, self-sacrifice, or bitterness as possible. Granted, this can be difficult, depending on the circumstances of your loss. Be good to yourself and just do what you can.
5. Review all of the things you still feel grateful for, despite your loss. Write them down on a sheet of paper. Add to your list. Keep it handy; reread it, or even carry it with you as a positive reminder. Following my youngest son's fatal work accident in 1984, I found myself feeling grateful for the 21 years Robbie had lived on this earth. I also felt grateful that what I do for a living (delivering motivational speeches and seminars, writing inspirational pieces) helped me cope with my pain and grief.
6. Volunteer. Doing a good deed for someone who is needy, lonely, or ill can cleanse your spirit. What better time than the holidays to adopt a family, work at a soup kitchen, deliver meals to a needy family, or volunteer at your place of worship.
7. If you need to, set aside a "grieving time" but keep it healthy. On the first two anniversaries of Robbie's death, I set aside the entire day for grieving, which included reading his autopsy report. After my second day of self-punishment, I finally realized what a torturous ritual I had created for myself! From that day to now, I chose to honor and celebrate the day my youngest child was born, not the day he died.
8. Commit to taking extra good care of yourself, mentally, physically, and spiritually. Get adequate sleep and engage in moderate exercise. Add some healthy self-nurturing practices to your daily routine. Pray. Meditate. Soak in the tub. Nap. Of course, avoid detrimental self-indulgences such as binge eating, drinking, or grudge shopping.
9. Don't keep your feelings bottled up. A "healing ritual" can help ease some of your loss or hurt. One family lit a candle every day for two weeks, before and after Christmas, after the death of their father to signify his presence in their hearts. Other families have bought or made a holiday symbol or ornament to commemorate their loved one in the military. If you're missing someone special, make a phone call or write a letter to yourself, or to him or her. In the case of a recently deceased loved one, put down in words what he or she might want to say to you. Keep or dispose of this document as you see fit.
10. Maintain your faith. It sounds like a cliché to say that time heals when you're in the throes of grief, but it is so true. We all need hope and optimism. Time combined with faith, constitute a powerful salve for hurt. Be kind to yourself and let time do its work.
I find it ironic that the holiday season, ostensibly, a worldwide celebration expressed in so many different ways, depending on the culture, can also be a time of darkness and depression for those who have experienced loss. They exist on the "other side of the social dividing line." Speaking from experience, I can attest that time is a merciful healer, and that empathy and support from a loved one is a tonic for the heart. Given all this, I wish you joy for the upcoming season, but if this is not one of the best holidays you've ever faced, perhaps some of the ideas in this article will help.
---
© 2007. C. Leslie Charles is an award-winning professional speaker and nationally acclaimed author. Portions of this article were excerpted from Leslie's "Why Is Everyone So Cranky?" and "All Is Not Lost: the healing journey through crisis, grief and loss." Visit www.lesliecharles.com for samplings of all her books and links to her other web sites. Her e-mail address is: Leschas@aol.com
895 views