ASSOCIATES (2011, March, v. 17, no. 3)
Review
What We Are Reading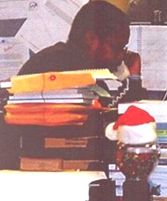 Michael D. Brooks
Saint Joseph's University
Philadelphia, Pennsylvania
In this article, I have decided to dispense with my usual review and work within this issue's question of the month. So I thought I would briefly talk about what my library reads. No, it's not an attempt to unabashedly self-promote my library, but an effort to propose something similar for your library to consider—if it's not already being done.
A few years ago, the University began a program called Saint Joseph's Reads. A book is selected and the university as a whole can share in the experience of reading it.
"SJU Reads is a program designed to engage the entire campus community in a common reading experience with the theme of the Ignatian value of social justice. Additionally, it includes a wide variety of interdisciplinary programming to explore topics addressed in the common reading." (http://www.sju.edu/news/archives/2008/09/sju_reads_090608.html)
In 2008, there was a lot of attention focused on the Presidential election. A university news article during that time focused attention on the political process and the book that was being read: Stealing Democracy: the New Politics of Voter Suppression, by Spencer Overton.
An extension of that program is offered by the Library Staff. Each month, the library blog, Library Lifelines, posts a book that someone on staff may be reading. The only criterion is that the book has to already be in the library's collection. In a monthly feature called What We're Reading, a book someone on staff is reading (or has read) is highlighted. As of this writing, the latest selection is Wolf Hall by Hilary Mantel.
Another service the library staff provides is an annual offering of what everyone read during the year and is willing to share. Each December we produce a list of the books we've read and call it Season's Readings. We submit our offerings with annotations. A list is then compiled and hard copies of the list are produced and mailed out as a Christmas gift from us to the University Community. The list is very well received. Students and staff who are interested in buying books as gifts or simply reading something they might find interesting eagerly look forward to the annual list. A link to our past Seasons Readings is included here. They are archived as PDFs.
As long as there are words to be written and people willing to read them, there will always be books to read, and libraries to dispense them.
843 views