ASSOCIATES (2011, March, v. 17, no. 3)
In Memory of Linda J. Owen
Julia D. Ree
Eaton Science Fiction Collection Cataloger
Metadata & Technical Services Department
jdree@ucr.edu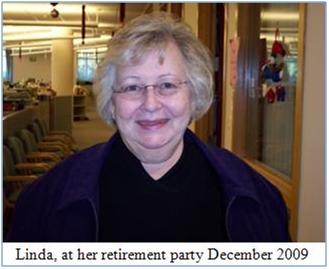 I would never have imagined that I would be writing THIS article THIS soon after her retirement. Linda Owen, my friend and co-worker, died February 28, 2011, a little over a year since her retirement. At the memorial service for Linda, almost all of her immediate family and many of her friends and associates over the years attended to express their admiration for her accomplishments. Her son Bill told us of her love of family, which we already knew, and of the things she needed to do, such as being a partner to her husband and a mother to their children. He said that she had accomplished what she needed to do. But from my perspective, there were aspects of her life that her family didn't know fully and many needs left unfulfilled. I don't think her family realizes the extent of Linda's reach to the rest of the world. There are many parts to a person's life and if it's a life well-lived, then those parts weave themselves into a tapestry that is large and full and contains many rich details. I can only provide here a small peek at Linda's tapestry.
I first met Linda Owen at the library of the University of California, Riverside, where she would continue to work until her retirement in December 2009. She came to the cataloging department to work in the Bibliographic Records Unit in 1985 and managers quickly realized that she was a natural to do the copy cataloging of books. Yet this was not enough for Linda. She needed more. In 1990, she began her journey with the Council on Library Media Technicians (COLT). A person can join such organizations and remain a passive observer, but not Linda! Within a year she was not only a member, but had also agreed to run for the 6 year cycle commitment of Vice President-President-Past President. She took on the responsibility for planning the annual COLT conference and under her guidance began a reawakening of that conference. As part of that conference process, Linda began to develop a speaker's bureau. During that time she also joined forces with others in Library Support Staff circles to help bring to life the Library Support Staff interests Roundtable at ALA (L-SSIRT). She contributed articles to library magazines: Library Mosaics, Library Trends and Associates. She continued to assist COLT and L-SSIRT in championing certification. The heavy hitters of certification in ALA owe a lot to the pioneers who are seldom acknowledged: Margaret Barron, Dorothy Morgan, and of course, Linda Owen.
Never one to rest on her laurels, Linda continued to be an influence in COLT. Her COLT connections led to outreach on a scale that had never before been achieved. Linda was instrumental in partnering with Canada's Library Technicians, helping to create affiliations between COLT and the Ontario Association of Library Technicians / Association des bibliotechniciens de l'Ontario. Linda presented papers at the Australian Library and Information Association (ALIA) not once, but twice! It was there that she met Marion Boyd, an Aussie LibTech and they became devoted friends. She advocated on behalf of Library Support Staff the world over; she often voiced her opinion with determination on the LIBSUP-L list serve. She took on the responsibility of designing and maintaining the COLT homepage, often updating critical information for Support Staff. For all these efforts and more, Linda was awarded Library Mosaics' Outstanding Support Staff of the year in 1998, a testimonial that has only been granted to a select few. One of the other recipients over the years, Rita Gibson, credits Linda's mentoring as a prime factor in motivating Rita to do more on behalf of Library Support Staff. These were indeed active times for Library Support Staff, and Linda was in the thick of it.
Linda's life took another interesting turn when she volunteered to be the Media Cataloger for the UCR Library. I think it must have been her restless spirit, the need to know more and do more. She quickly became an expert in media cataloging and name authority, arguably the lowest paid person in the UC system to be responsible for such a critical part of the library's contributions to the OPAC and OCLC. Other libraries have Librarians doing that level of media cataloging. Her records were so detailed and accurate that the Library of Congress agreed to keep UCR as part of a funnel-project for name authorities, as long as Linda was the person doing the work. Her diligence and attention to detail made her an expert cataloger, often doing original work. But once again, that was not enough! Several years would go by, but again that restless yet willing spirit compelled her to volunteer again, to tackle another cataloging quandary…eight years ago, when the Education Services cataloger retired, Linda asked to take on the duties of cataloging juvenile and education services materials, often revamping sets and creating usable finding aids that had never been done before.
Linda did have a life outside of the library and she attacked that part of her life with the same gusto. She dearly loved her grandchildren and was the quintessential doting grandma whenever any of the five of them would visit, or email, or text. She was fiercely loyal to the creatures of the Earth, having made the transition to vegetarian over 20 years ago. She often donated funds to animal charities, including helping to feed the campus cat population. She would pick up stray cats and dogs, and love them and nurture them. Often Linda would go to phenomenal expense to give them a great quality of life because a good life just wasn't good enough. Never was this more apparent than when she agreed to repair both of puppy Nigel's hips at the cost of $1200 per hip. For Linda, the dog needed the surgery and this was just the right thing to do. Nigel lived a long and happy life because of that act of charity.
You could say that her restless spirit needed an infusion of wonder every now and again. The Clay Aiken bug bit her during the second season of American Idol, beginning a new adventure for Linda. Quite outside the realm of Libraryland, Linda's devotion to Aiken was acute. She often travelled to see his shows, communicated on the chat boards about Aiken and eventually became friends with other Clay fans, forming a true bond that will never quite be broken. She was able to let her hair down with these women in ways that she never could at home or at work. Each of these women at one time or another has shared the role of best friend with her and their outpouring of love and loss is profound.
I was a witness to most of this in the intervening years. We sat close to each other at work for over 20 years. We traveled together. We enjoyed a couple of Clay adventures together. We shared a love of plays and movies and books and science fiction and fantasy. We often argued. We often laughed. We often egged each other on. And we often rallied for each other. Whenever there was trouble, we knew we could count on each other and did so, more than once. For my own part, I can credit Linda for shoving me onto the COLT path. Had I not known Linda and been mentored by her to an extent, I would not have joined COLT, nor volunteered to join Linda in creating some amazing conferences. The skills I learned from those early experiences have made me the person I am today. Without Linda, I would be a very different person.
I know that Linda wanted to travel once she retired, although she did do a fair amount before leaving our office for good. She wanted to be a participant in her grandchildren's lives. She wanted to continue to gleefully enjoy Clay Aiken's career and the friendships she had built surrounding that obsession. I grieve that her life was cut short … 68 is too young to say goodbye. But when I really look at the tapestry of her life, I see that Linda took charge of her destiny in many ways and in many instances. Her tapestry is rich and full and maybe only the outer fringe needed finishing. For the most part, Linda's tapestry is beautiful and filled with the warm thanks and good memories that so many of us have of her.
989 views