ASSOCIATES (2011, March, v. 17, no. 3)
Spotlight
Jennifer Dyer, Sydney, Australia
Library Technician
Birrong Girls High School
j.dyer@bigpond.net.au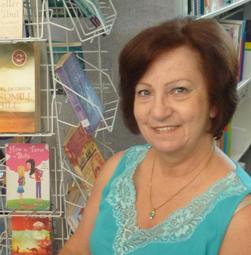 Where do you work and what do you do?
I work at Birrong Girls High School, a 90% non-English speaking background (NESB) girls' high school in the western suburbs of Sydney, NSW, Australia. My Teacher Librarian and I serve a clientele of 850 students and 70 staff. I am employed as a School Administrative Officer (Library) but I do all the tasks that a Library Technician is trained to do only on a smaller scale – all library administration duties including making library cards and teachers' library passes, templates for various forms, laminating, answering the telephone, circulation desk duties, cataloguing and all its processes, preparing book boxes for classroom use outside the library, handling money received from printing and library fines, setting up displays, assisting students with their reference materials and computer work where required, preparing the library each afternoon, after school, for Homework Centre, shelving and general tidying of shelves, etc. In addition to this I assist the Teacher Librarian with our library Information Literacy classes and train TAFE workplace students and our school student library monitors, who help me with some of my tasks at recess and lunch. This training of students offers a more extensive service than if we had no library helpers. Even though it takes time to do this training, we have found it very valuable in the long term.
Our library also runs numerous activities during the year such as the celebration of the Australian Library & Information Association (ALIA) Library Lovers Day, Children's Book Council of Australia (CBCA) Book Week, Library and Information Week, Education Week, National Literacy & Numeracy Week, author visits and multicultural celebrations. Each of these activities requires specific promotion. Once per week at lunchtime we run a Chess Club; I teach knitting to students in the winter months for the "Wrap With Love" Program where knitted squares are put together to make wraps for those in underprivileged countries, and we also donate books to Sierra Leone.
I run Scholastic Book Club where students and teachers order books for personal use and assist with the Premier's Reading Challenge, a reading program run by the NSW Government, as well as our own DEAR (Drop Everything And Read) program initiative which runs for 20 minutes each day during Roll Call, supplying specially selected books from our library 'Hot Box'.
How did you get involved in library work?
A staff multi-skilling exercise 12 years ago prompted my move from the administration section of the school to the library. I was keen to go to the library since that was where the new technology was housed which I wanted to learn. After moving each 6 months around the different areas of the school, I returned to the library when we were asked to nominate a permanent position because of my yearning to learn more about that area. At this time I was undertaking a Certificate of Administrative Leadership Course, which included an Action Research Project, and I decided to further my library knowledge by developing a training scheme for student Library Monitors, which I presented at the (ALIA) National Library Technicians Conference in 2001 (see http://conferences.alia.org.au/libtec2001/papers/dyer.html).
This was the beginning of my connections with a library professional association. At that time I was a personal member of the School Administrative & Support Staff Professional Association (SASSPA) and later became a member, then Secretary of the Australian School Library Association (NSW) Inc (ASLA). These professional associations have helped me immensely in my library journey, culminating in the attainment of my Diploma of Library & Information Services in 2004. In 2007 I was awarded "ALIA Library Technician of the Year" at the ALIA National Library & Information Technicians Conference in Melbourne, Victoria and in 2009 I received an "Outstanding Professional Service Award" by the Professional Teachers' Council NSW on behalf of ASLA (NSW) Inc. These awards have been the result of my library colleagues' support, training and mentoring. I cannot thank them enough for their nurturing and persistence over the years.
Now I encourage others with the same opportunities that I have had. As Convenor of ALIA (NSW) Library Technicians Group for the last 3 years, ALIA National Treasurer of the Library Technicians Group for 1 year, Secretary of ASLA (NSW) Inc. for 2 years and through my workplace as a member of the Department of Education & Training (DET) South Western Sydney Region Library Conference Committee, I am constantly encouraging others to achieve their personal best, seek new opportunities for advancement and always be on the lookout for new and improved ways of doing things. My biggest learning opportunity was being a member of the ALIA 2005 National Library & Information Technicians Conference in Sydney. At the time I felt quite a novice at such a demanding task but having the confidence to reach out to others by getting out of my comfort zone and taking an active part in all these activities did wonders for my career, not to mention my personal satisfaction and self-esteem. The same experiences can also apply to others.
Describe support staff activities in your area
I have purposely made a point of being interested and involved in as many support staff activities as I can, to enable me to acquire as much knowledge and be a true representative of library activities across the state and nation. As a library representative for non-teaching staff in our region, I belong to a committee that runs a library conference day for DET Teacher Librarians and Library School Administrative Officers once each school term, i.e. 4 times per year. It is also important that a watch be kept on activities outside my particular area or region to supplement my own knowledge and undertakings. This term's conference day theme "Public Libraries and School Libraries – Working Together" has been a passionate topic of mine that I have been working towards for quite a few months. This week saw it all come together, with public library representatives from the major Council libraries in the region facilitating information sessions for school staff personnel in their area. It was very satisfying seeing everyone working towards a greater understanding of each other's jobs, sharing resources and sealing communication to further improve the learning of our mutual clients – our school students.
As Convenor of the ALIA (NSW) Library Technicians Group I oversee this organisation's many and varied activities, not only keeping databases up-to-date for membership but also being involved in the Group's activities. These involve activities such as visiting other libraries, UnConferences, social events and speakers for special occasions, e.g. Library Technicians Day, contributing to and editing our biennial e-newsletter, attending the national conferences in the different states of Australia and immersing myself in the successful functioning of our activities. Teamwork is a must for this to be achieved. Similarly, social interaction with our peers is also a mandate for success in our relations with others.
Final comments
I just love my library work. If you had asked me 12 years ago if I would have been interested in a career in library I would have said 'no'. I have proven that you don't have to be the 'stereotype' to fit a career – if you have initiative, use your talents and are willing to learn from others and become proactive in the field, then you can do almost anything. It's what you make of it and are happy doing that makes the job a success.
Another must is to find yourself a mentor – they can help with your weaknesses and show you how to build on your strengths. It's only since I became interested in library work that I have been encouraged to write articles for library journals and school publications and present papers at conferences and professional learning days.
A Library Technician is a very rewarding career. My colleagues and professional association members have given me so many wonderful opportunities and I hope that those reading this article will reflect on their own learning and experiences and 'Reach for the Stars' (our school motto) as I am always trying to do.
2,308 views