ASSOCIATES (2008, March, v. 14, no. 3)
Review
What is a [fill in the blank], Anyway?
Michael D. Brooks
Saint Joseph's University
Philadelphia, Pennsylvania

What is a blog? What is a wiki? What is social networking? What is an RSS feed?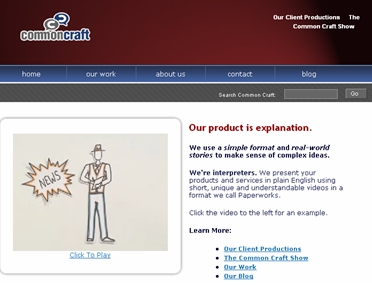 If you've ever asked yourself these questions, you've no doubt sought out answers. Sometimes the explanations are as clear as mud. What you want are really simple explanations. Well, believe it or not, someone has figured out how to do just that. Point your browser to Common Craft (http://commoncraft.com/). The site's tag line is: "Explanations in Plain English." And that's all they do; they explain things in the simplest terms through video shorts.
The homepage is simple and easy to navigate. The masthead across the top of the page contains the following links: home (their homepage), our work <http://www.commoncraft.com/work> (basically, stuff that they've done and why they do it), about us <http://www.commoncraft.com/about> (who the site owners are and what the company is about), contact <http://www.commoncraft.com/contact> (their contact information), and blog <http://www.commoncraft.com/blog> (a combination of work and non-work-related blog entries). This masthead, by the way, appears on every page of Common Craft. So you always know that you are still on the site.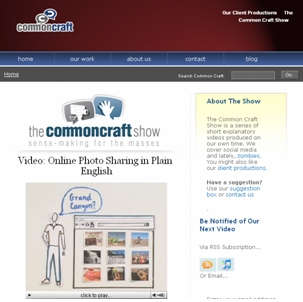 Also, the following two links appear at the top right of the masthead and within the body of the homepage: Our Client Productions <http://www.commoncraft.com/productions> (a list of companies and organizations for whom they've done work or made presentations for) and The Common Craft Show  <http://www.commoncraft.com/show> (which is a short list of some of their video presentations).
If there is a simple way to explain something, this site should be bookmarked as one of the first places to go. Their paperworks videos are the key to the site's success. The basic, paper animations along with clear, succinct descriptions allow the visitor to understand the most technologically complex matters.
My library recently began using a wiki for library staff. One of our librarians found this site and the video explaining wikis and passed the URL to the Web librarian who passed it on to me. She asked if I would use it as part of a demonstration during a general staff meeting. (I think it went over well. The wiki is expanding.)
Not all of your questions may be answered with a paperworks video. There is a search field on the homepage where you can type in a keyword and find out if they have a video or blog explaining what you need to know. When you type in your keyword, you're taken to a Yahoo! Directory <http://dir.yahoo.com/> page where related entries are listed. You scan the entries and click the link that best meets your criteria. I typed in the keyword "tag" and selected the first link on the directory page. The result was a blog entry from January 21, 2005 explaining what a tag is. Within the blog article were links to related sites outside of Common Craft.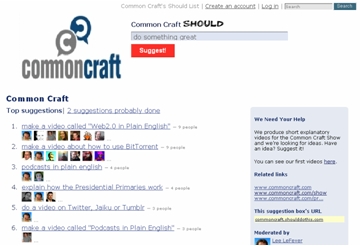 If you enter a keyword and Common Craft hasn't done anything pertaining to it, like Web.2.0, a link to their Should Do <http://suggest.commoncraft.com/>  page will be listed in the Yahoo! directory. Click on it to see how many people have sent in suggestions for Common Craft to do something on the topic. If you don't see any suggestions, you can suggest one yourself. There's an entire community of people who post suggestions for Common Craft to consider.
Another pleasantry is navigation. You can't get lost. At the bottom of each page are three columns with links listing the Most Viewed, Popular Right Now, and Recent Blog Posts of their videos and blog entries.
Common Craft is a cool place to visit.
©2008 by Michael D. Brooks
First Serial Rights Only
---
Michael is an Acquisitions Technician at St. Joseph's University in Philadelphia, Pennsylvania. With the March 2008 issue, Michael is celebrating 10 years of contributions to Associates. He has written web pages reviews, product review, interviews, and articles. Thank you, Michael!
1,162 views