ASSOCIATES (2011, March, v. 17, no. 3)
Spotlight
Ruth Mason, Norwich, New York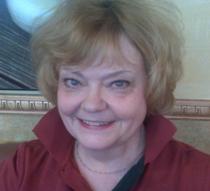 Senior Clerk and Circulation Supervisor
Guernsey Memorial Library
Where do you work and what do you do?
Guernsey Memorial Library in Norwich, New York, has been my home-away-from-home for the past eight years. (I spent a lot of time there as a young person, especially writing English papers in high school.) Starting as a part-time clerk, I became full-time in the Inter-Library Loan department. For the past five years, I have served as a Senior Clerk and Circulation Supervisor.
How did you get involved in library work?
Years ago, volunteering at my daughter's school in Lakeside, California, led to more volunteering when we moved north to Loomis, California, in 1984. In 1993, the Rocklin Unified School District added a library to its new campus, and I was hired as a Library Technician. I was privileged to be there for two years, at which time my daughters and I came home to Norwich, New York. In early 1999, I was fortunate to join the staff at the Norwich Middle School and then the Norwich High School library for a period of five years.
Describe support staff activities in your area
Library Assistants in New York State are fortunate to have a grand organization – New York State Library Assistants' Association – founded in 1977 – by and for Library Assistants. We are more than five hundred members strong, and have members throughout New York State, several other states and Canada. Members represent public, academic, and corporate libraries. NYSLAA publishes a quarterly newsletter that is mailed to each member. This keeps members informed, and promotes the activities of the organization. Every April, library assistants in New York State are recognized by the New York State Legislature that proclaims the Thursday of National Library Week as Library Assistants' Day. In June of this year, the 33rd Annual NYSLAA Conference will be held in Geneseo, New York. I have been privileged to serve as the Public Relations Chairperson for the past three years. Please visit our website www.nyslaa.org for details.
Final Comments
Library work has been extremely rewarding for me. Whether helping a student find a field guide to identify a bird in their back yard, foraging for a new macaroni 'n cheese recipe, or tracking down a Chilton' 1982 Ford Pick-up Truck Manual, helping patrons is fun!
With technology galloping along at top speed these days, my concern and frustration is that the younger generations may not develop a love and appreciation for the printed word. I enjoy curling up with my grandson, Liam, and reading his favorite fire-fighter book. I believe libraries will always be needed to support the public, but our role and the way we offer information are changing.
930 views