ASSOCIATES (2008, March, v. 14, no. 3)
Feature
A Writing Experience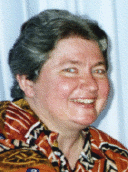 Tinker Massey
Embry-Riddle Aeronautical University
Daytona Beach, Florida

Words, words, words, describing places and things and offering understanding…
How many of you write for publication? Do you write fiction, non-fiction, poetry or manuals? Have you even considered it? I worked many years thinking everything I did was so mundane … the very pits of routine. How could anything I did become interesting to anyone else?
Then, I discovered that not every institution does things the same way. Each library has different finances, slightly different organizational structures and sometimes some very different collections. It's easy to get started. Just sit down and begin talking about things you do…workflows…handling collections. Why even shelving can be an interesting discussion!
One of the most extraordinary jobs I had was a part-time job at a public library shelving materials for three hours a day. I organized the book trucks with the shelving that needed to be done for the evening. I arranged them in the same order as the shelving units: browsing (A-Z, and Dewey), large print (fiction, mystery, sci-fi, western, and nonfiction), biography, regular fiction, mystery, sci-fi, and non-fiction (Dewey order). The children's section was similar. Of course, we did pick-ups all the time and shelved reference in between the regular shelving. As it turned out, the way I organized the shelving allowed us to keep everything shelved. We saved time, energy and lots of steps. When I went to the main library to help them on a Saturday morning, I used the same technique in the children's collection after finding out how things were organized. They were desperately behind. I counted around fifteen trucks of books, mostly double sided and all mixed up. It took a little while to reorganize, but at the end of my three hours, I had shelved ten trucks of books. They laughed and decried the fact that the afternoon shelvers wouldn't have much to do. I assured them there would be more books coming. I jumped in my car and sped across town to my regular branch library and took care of those books too. The supervisors still talk about that one Saturday. When I needed extra work to earn more money for school, there was no problem, they just called me in.
I have given demonstrations about this procedure, but I realized that when that is transferred to print, there are a lot more people interested and informed. It is important to share your knowledge. You never know who will need it. I have addressed numerous topics over the years and most seemed to be well received. Sometimes I find emails addressing something I have said, and a discussion ensues where I can impart more information, share ideas, or listen to ideas from others. What a great system!
In recent years, I have talked about similar topics and some that are very different. I have worked with some special collections of materials, with different formats, and under specific crises. All of the issues are of interest to some people. You can do it too! It doesn't take long to write a couple of pages and library staff who read the articles will benefit by them. Try writing! You may find that you enjoy it and the attention it brings to your ideas, your library and your innovative methods. Remember, your routine may be someone else's revelation! Have fun!
---
Tinker Massey is the Serials Librarian, Embry-Riddle Aeronautical University, Daytona Beach, Florida. Tinker has been contributing to Associates since the first issue in July 1994. Cheryl Dadabo is in the Acquisitions Department and Biletnikoff Langhorn is in the Library's Media Center.
877 views