ASSOCIATES (2011, July, v. 18, no. 1)
Feature
News from Canada
Karen Hildebrandt
Access Services Coordinator, Concordia University College of Alberta, Alberta
Canadian Library Association Library Technician Interest Group (CLA LTIG), Convenor
Karen.hildebrandt@concordia.ab.ca

Highlights from 2011 CLA Conference
Eight people attended the Interest Group breakfast meeting on Friday, May 27 at 7:30 am. It was the last meeting for our group with the restructuring of CLA and the dissolution of all divisions and interest groups and the move to form networks. I'm proud to announce that we are one of the first CLA networks. We are now called "Library Technicians and Assistants Network" or "LTAN".
CLA Library Technicians and Assistants Network (LTAN)
Terms of Reference
To act as a national forum, with effective communication across Canada, for the exchange of concerns, ideas and activities of library technicians and assistants.
To coordinate activities in order to facilitate this exchange of concerns and ideas.
To study and recommend improvements, in conjunction with existing and future provincial/regional library associations, in the education and training, recruitment, effective use and employment and working conditions of library technicians and assistants.
To investigate career development/advancement for library technicians and assistants.
To review, with the assistance of CLA/ACB task forces or sub-committees, the Guidelines for the Education of Library Technicians on a regular basis, with the objectives of maintaining their validity and currency, and to communicate these results to library technician educators, employers, and the library community.
Oversees the awards committee for The CLA/ACB LTA Network annual award of merit.
At least ten members are CLA members.
Proposed Plan of Activity
Investigate library technician programs accreditation.
Network with Provincial and Regional Library Associations and Interest Groups.
Plan networking social event(s) during CLA Conferences.
I am honoured and deeply humbled to have been awarded this year's CLA LTIG Award of Merit. I am deeply touched by the support and recognition of the work I have done on behalf of CLA LTIG. It's a labour of love and I never expected any kind of recognition which makes this award that much more meaningful. I want to thank Libramation for sponsoring our award over the past six years. Without their support, this award couldn't have become a reality.
Nineteen people attended the LTIG networking supper at the Split Crow Pub on Saturday, May 28. We had library technicians, librarians, library assistants, students and even two LIT program chairs/coordinators attending and a great time was had by all.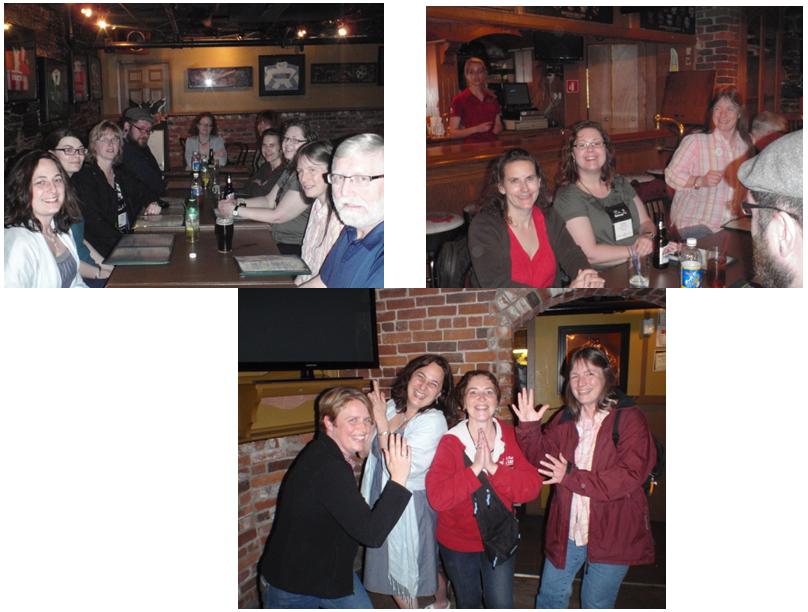 With the ending of our interest group, I thought it only fitting to share a brief history or time line with you and to thank all those that served as convenor before me.
Library Technicians were previously a sub-committee of the Education for Library Manpower Committee which was established in 1967.
Library Technicians (Role and Education) operated from 1974 – 1979 as Education for Library Personnel.
The Library Technicians Interest Group was established March 1984. In March 1989 it merged with Committee on Library Technicians (Role and Education).
LTIG Convenors:
1984-1987 – Stephen Porrior
1987-1988 – Joyce Thompson
1988-1989 – Shirley Kerr
1989-1990 – Donna Duncan
1990-1991 – Maggie Weaver
1991-1993 – Diane Dwarka
1993-1994 – Pat Sifton
1994-1995 – Marg Anderson
1995-2004 – Maggie Weaver
2004-2011 – Karen Hildebrandt
CLA LTIG Award of Merit Winners
2006 – Dianne Walker
2007 – Erica Smith
2008 – Carmelita Cousins
2010 – Karen Darby
2011 – Karen Hildebrandt
I'd like to encourage everyone to consider becoming a member of LTAN. Together we can make a difference. We are CLA!
839 views