ASSOCIATES (2008, March, v. 14, no. 3)
Spotlight
Sherry Kinjerski, Namao, Alberta, Canada
Where do you work and what do you do?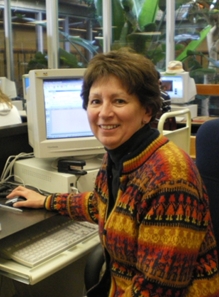 My name is Sherry Kinjerski and I work as a library technician at Sturgeon Composite High School at Namao, Alberta, Canada. Namao is a small community in the suburbs of Edmonton, the capital city of the province of Alberta.
Our school offers a full range of courses including the academic courses, vocational training, fine arts programs, sports programs and special education. With a school population of about 950 students and a staff of 55 teachers and more than 20 support staff, we are very busy providing the services and resources that they require. Increasingly textbook purchase and allocation are becoming part of our mandate so tracking and maintaining this textbook collection has become an ongoing issue.
Our library houses one of the four computer labs in the school which is signed out by class or used by individual students for research or recreational use on their spares.
As you can see, we are a vital part of this school. I would like to say our library motto should be: "We are the core of the school".
My job entails all parts of traditional library work but also includes AV troubleshooting, display board creation, computer troubleshooting and the occasional mentoring.
I am also responsible for the upkeep of our website for our union local.
How did you get involved in library work?
I was a stay-at-home mom for many years and after having my two children reach a reasonable age where I felt comfortable returning to school, I took some career counselling at a government agency which assessed my skills and determined careers I would most enjoy. One of them was the library field. I enjoy reading and the thought of having summers, Christmas break, etc. off that mirrored the time my children would be home enticed me to take the two year Library Technician Program at Grant MacEwan Community College in Edmonton. I have never looked back. I have made lifelong friends at the College, many of whom I still see on a regular basis. I am a Virgo and as many people know, Virgos like order so this career suited me.
Describe support staff activities in your area
Our school division has about 5,000 students in 16 schools which are spread out over a wide rural area. The libraries are run by library technicians with some having teacher librarians as their supervisor. We get together on a regular basis for professional development which usually involves roundtable discussions about various issues within our libraries such as discussion of our library software system and how each uses it, collection development and mentoring each other. One of the library organizations that our province has is the Alberta Association of Library Technicians (AALT) which is the provincial body for library technicians. They hold annual conferences as well as regional seminars. This organization was formed in 1974 to promote our status and to standardize provincial education standards.
The support staff in our division belongs to CUPE which is the Canadian Union of Public Employees. In November, 2007, I attended a steering committee meeting for library workers. This committee consisted of workers from public, special, and academic libraries from Alberta. The national body of CUPE is attempting to address concerns and commonalities in libraries across Canada. The national meeting for the Western Library Workers Conference will meet in May in the beautiful city of Vancouver, British Columbia. Our theme will be Library workers connecting our communities. One of the suggestions the school library employees brought up was to have some sessions at this conference specifically for school libraries as our concerns are different from other libraries.
Final comments
I have found that libraries have changed dramatically since I graduated in 1989. Computers were just coming to the fore. Students read books for recreation and research and respected the ambience of the library. Research was a common request for me with students needing assistance in finding a particular article, poem or book from the stacks. That was the part I really enjoyed and miss as library people seem to thrive on detective work. It involved a more personal relationship with the student. The makeup of our library today sees the use of the internet for most of their research; therefore books are not circulated as much.
We have to change our way of thinking what a library should be in the 21st century. This takes a change in mindset. We have to respect that what was the norm in 1989 will not be the norm now. We are still a very busy library with students coming in to study, surf the net, keep in touch with their friends and enjoy the safe environment we provide for them.
All in all, my choice of career resulted in fostering many continued friendships over the years and allowed me to pursue further education. My plan is to retire within the next three or four years, go south for the winter and come home for the summers to bond with our children, grandchildren, family and friends.
921 views