ASSOCIATES (2011, July, v. 18, no. 1)
Review
Writing Without Fear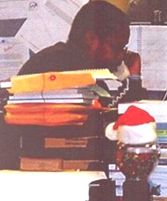 Michael D. Brooks
Saint Joseph's University
Philadelphia, Pennsylvania
Do you get that pit in your stomach feeling when you have to write a report, business correspondence, or research paper? Do you struggle with grammar, spelling, and vocabulary, and then worry whether what you've turned in is good enough — especially if you're not a writer and are uncomfortable writing? PaperRater.com could eliminate some of that anxiety while helping you become a better, more confident writer. And the best part is that it's a free service.
Paper Rater is a helpful site for those not quite skilled at the fine art of putting the written word to paper. It's free and very easy to use. Just click the 'Use Now Free' button and copy and paste your work into the proofreader box designed to accept your text. You may have to do a little adjusting of your text (depending upon how it's formatted). It might be best to copy and paste a document that you saved in Rich Text format. Line spacing doesn't appear to be problematic during the analysis, but it helps when reading the text.
Then just check the appropriate questions, which are nearly all required, and click the 'Get Report' button. You will be required to check the Terms of Agreement button before you can continue.
Once you submit your paper, it's quickly analyzed and the results are displayed. Alongside the results to the right is a list of clickable explanations of the results. They are: Spelling, Grammar, Word Choice, Style, Vocabulary Words, and Grade. The links either offer you a choice of options or offer a summary of your paper with selected text colorfully highlighted. When you click a highlighted word to check your spelling, grammar, or word choice, a pop-up box will appear containing a list of suggestions for making corrections.
The Grade link will tell you whether your work gets an A or something else. The numeric equivalent accompanies the letter grade.
The 'Vocabulary Words' link will analyze your choice of vocabulary words and then offer to help you improve your vocabulary with a link to the Vocabulary Builder page.
The 'Works Cited' section is convenient for those times you're not quite sure whether you have the citations in the correct format. Even though it looks like all you can paste are reports and term papers, you can copy and paste anything you've written.
Because the site is primarily designed for research and term papers, the results will not always be conclusive for non-research work, but the resulting analysis should prove useful as a measure of your writing ability. I plugged in a colleague's ad copy to see what the results would be. The proofreader found no spelling or grammar issues, and flagged only one word without offering any real options. There was no grade given because the paper didn't match any compatible formats comparable to a research or term paper.
Another useful feature is the Plagiarism Checker. It could prove useful to someone who is teaching and might want to double check their students' work. I don't recommend relying totally on this feature. An originality percentage rating is assigned to the paper as well as links to sites that might contain the exact wording. I proofread one of my research papers. Three links to sites containing a quote I used were flagged. I did correctly cite my quote, by the way.
I also plugged in a couple of my published short stories. They were tagged as one hundred percent original works.
If you use this site, like the results, and want to do more to improve your writing, you can click the Our Blog link at the bottom of the home page and peruse the posts.
Happy writing.
1,039 views