ASSOCIATES (2011, July, v. 18, no. 1)
Spotlight
Kathy Clevenger, Culpeper, Virginia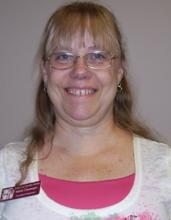 Coordinator of Circulation & Volunteer Services
Culpeper County Library
kclevenger@cclva.org
Where do you work and what do you do?
Being the Circulation Coordinator involves many tasks. I supervise three part-time Circulation Associates, one part-time Library Page/Administrative Assistant, and eight Volunteer Circulation Associates. Many of the Library Reference Associates are also cross-trained to work the circulation desk. I am responsible for the training of all library personnel and volunteers on the circulation system we use, which is The Library Corporation (TLC) LS 4.2 Module. Also, making sure all our upgrades are performed in a timely manner, I continually update staff and train them on any new features associated with the upgrades. I work the circulation desk along with my other duties, thereby staying current on everything that is happening at the circulation desk. Circulation Associates are very proactive in helping me to think of ways to better improve the workflow on the desk and offer suggestions on a regular basis. I follow through on all suggestions and credit any changes that are made to the individuals who suggested the change. If there is no change able to be made, I still encourage further suggestions by always telling the individual(s) why their idea wasn't feasible at this time. Recognizing that you are listening and taking their ideas seriously, your staff will continue to bring ideas forward in the future.
I also run the weekly Overdue Notices. While another circulation Assistant calls First Notices, I call all patrons who are on their second notification for overdue items. Final Notifications, sent by mail, allow the patrons two weeks to settle their account prior to being sent to the Collection Agency. Culpeper County Library utilizes Unique Management Services, Inc. as our Collection Agency. I am responsible for the daily reports sent by Unique, weekly submissions of new accounts, and monthly reports. I keep a spreadsheet to track all activity within the Collection Agency.
I barcode and enter all magazines in to the computer system. I also barcode and enter Juvenile and Young Adult Paperbacks, that are not officially catalogued. I order replacement parts for Audio Books, either tape or CD.
Using The Library Corporations Report Manager, I do daily, weekly, and monthly Circulation Reports including Hold Reports, Overdue Reports, and Item Location/Status Reports. Working closely with TLC, I have also been able to customize many of our reports to better suit the needs of the Library and staff.
The other part of my job is Volunteer Coordinator. The Culpeper County Library usually has about 60 volunteers at any given time. During the summer the number increases to about 80, because many early teens and young adults help with the Summer Reading Program. Our volunteers assist in all areas of the library including Circulation Assistants, Reference/Children's Associates, Pages, Story time Helpers, Ordering Books, Interlibrary Loan, Website Updates, and much more.
Our volunteers start at the age of 12 with the Summer Reading program and many stay with us until they graduate from high school. We also have many seniors volunteer at the library. I have worked with the National Council on Aging to provide temporary work for skill training and experience to better these individuals for entering the work field. I also work closely with Piedmont United Way and the Retired Senior Volunteer Program to assure all ages of a happy and rewarding experience. Just recently I have hosted a volunteer student from France who is working toward her degree in Managerial Assistant. This was a rewarding experience even though the language barrier presented many challenging opportunities. Some of the volunteers are satisfying school requirements or court ordered volunteer activity.
Working with volunteers has definitely opened my eyes to the benefits of giving back to your community. Without our volunteers, we would have been impacted even more due to budget cuts that everyone is experiencing. Though volunteers can never replace staff in a library, dedicated volunteers can definitely improve the customer service that we can extend to our patrons due to the time they have contributed to free up the staff for other duties.
I have recently developed a Volunteer Manual that explains the History, Mission, Policies and Procedures of the Library. Whether paid or volunteer status, you need to have an understanding of where you came from and the goal that you are working toward to make your time meaningful and productive. I feel very strongly that it is essential a person knows the actual mission of any given establishment in order to dedicate the time needed to volunteer.
I am also an active member of the Friends of the Culpeper County Library. Acting as Ways and Means Committee Chair at present, I work closely with the Friends Board to raise awareness and money to help support the Culpeper County Library and its mission. Actively involved in the planning and coordinating of all fundraising activity, I am responsible for the coordinating of volunteers associated with all these activities. I am also responsible for the staffing of volunteers for the Friends of the Culpeper County Library Bookstore which is open 21 hours per week. This involves about 22 volunteers.
How did you get involved in library work?
In September of 2001, my husband and I relocated to Culpeper, Virginia due to his job. Prior to that I had lived in Allentown, PA and was working as a Registered Invasive Cardiovascular Technician and Licensed Practical Nurse. I had worked in the Invasive Cardiology Lab for 23 years. Although I loved the medical field, I was at a period of "burnout" due to the long daily hours and on-call hours required in the field I was working in. Lehigh Valley Hospital Center was a very progressive hospital that usually was in the top 50 -100 hospitals in the nation for Cardiology Services. Since I was moving out of PA and into a small town with a community hospital that had no Invasive Cardiology Lab, I decided that it was the perfect opportunity for me to pursue other avenues of interest to me.
I started volunteering as a Page at the Culpeper County Library in January of 2002. I quickly realized I missed the one-on-one customer relations I had with patients and moved in to a volunteer position at the circulation desk to bring back the interaction that I always enjoyed with people. This led to a part-time position as a Circulation Assistant. Within a short period of time, I was promoted to a position that was new to the library, Coordinator of Circulation and Volunteer Services. I am extremely happy with the career change I have made and hope to complete my Library Support Staff Certification within the next year.
Describe Support Staff activities in your area
Working as the Circulation Coordinator, I train, supervise and evaluate all employees in the circulation department. All employees that work on circulation do the same function: new patron applications, check-in/check-out items, holds, patron suggestion for purchases, fines, collection agency accounts, getting book carts ready for the pages, photocopying forms, providing assistance to schedule internet usage including Driver Improvement Testing, and much more.
Each individual also has special duties assigned to them such as: calling overdue notices, cleaning/repairing damaged discs, changing damaged audio cases, repairing damaged books, notifying patrons of missing items from audio/visual material, etc. The staff is always encouraged to present ideas for improving work flow on the circulation desk. Follow-up is done with any suggestion given.
Final Comments
I am extremely content with the position of Coordinator of Circulation and Volunteer Services. I am very lucky to work at a library where support staff not only plays a major role, but also is asked for input on a continual basis. This allows all staff to feel that they are a vital part in fulfilling the mission of the Culpeper County Library, and providing services to our community.
832 views