ASSOCIATES (2011, July, v. 18, no. 1)
Feature
Enjoy what you have!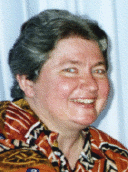 Tinker Massey
Eileen4tinker@yahoo.com

Happy summer from the deep south! Hope everyone is doing well and enjoying their worklife, as well as their personal life. It occurred to me, when I was retiring from my job, that I had enjoyed going to work for forty years. I count myself lucky. Because of some medical difficulties, I have now experienced worry free mornings and being able to rise when I want. Retirement is incredible. I have made a choice to spend everyday relaxing and regaining my health before I make any other choices of changes. I have continued to work on my first children's book and will soon have it printed for sale.
In evaluating my worklife, I found that it was essential to make each day a challenge by looking for new things to do, new ways of doing them, or looking for new ideas to make work easier. Each day can be ordered by setting new goals or new statistical possibilities.
When that is accomplished, try straightening out any bad/marginal personal relationships in your workplace that relate to you. Establish new relationships/friendships. Look for ways to improve your work area or procedures. Volunteer for committees or help on parties, tours or even campus committees, especially raising funds or materials for special needs groups. Many of these suggestions help to alleviate stress in the workplace and bring the staff closer together. Keep a look-out for needs in the work environment and try to find suggestions to improve those situations. You can't force change, but you can make suggestions from time to time.
Keep your head down! Have fun! Look for ways to cause changes to happen! If you keep pushing the positive, things will change. It has always amazed me that it appears many great things have fallen my way, but when I analyzed them, they came through hard work, participation, and saying yes to a lot of opportunities. Sometimes the work was not exciting, but the opportunities gave me new venues to explore and new ways to apply writings and speeches. The forty years has been a blast and I look forward to even more opportunities in the future. Let me challenge you to write me and send ideas that you would like to explore or have me explore for you. I think it would be fun to hear what you suggest. I look forward to it!
Thanks for helping out!
957 views