ASSOCIATES (2012, March, v. 18, no. 3)
Review
Andy McDermott's "Temple of the Gods"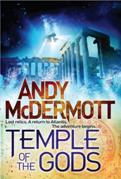 Published by Headline Publishing, ISBN 9780755354719
www.andy-mcdermott.com ; also available as an e-book.
Reviewed by Jim Jackson
J.G.Jackson@exeter.ac.uk
The latest book I have read is Andy McDermott's 8th book in his series of Nina Wilde/Eddie Chase novels called Temple of the Gods. Andy is a British author who lives in Bournemouth, UK and is a former journalist.
The series of books started some time ago and had been developing a strong theme and on going plot. The first book was called 'Hunt for Atlantis', which perhaps gives you a clue to the books, with fast action, adventure and thrill a page excitement. Nina Wilde is an archaeologist who has won world fame for her discoveries, who unfortunately seems to attract megalomaniac psycho's who want to either run the world or destroy it – sometimes at the same moment. For her, think of Laura Croft and Indiana Jones as one character. While her husband (Eddie) could be described as a downmarket James Bond and Jason Bourne style character.
At the start of Temple of the Gods, Eddie is accused of murdering an important Interpol officer and he is on the run from various law enforcement agencies. Nina is devastated by this news but continues her work for the United Nations as a special advisor. While her husband travels the worlds dangerous back street's trying to find out who is trying to frame him for the Interpol murder Nina has her own problems. She travels to Tokyo to try and find 3 small mysterious statues which a mega rich Japanese industrialist seems to have acquired. When combined together these statues can help channel 'Earth Energy' and provide endless power for good, but a terrifying weapon for evil.
Eddie and Nina unexpectedly meet up in the industrialist's main office block in Tokyo – each intent on stealing the statues. Will they work together or will their separate needs mean that they compete against themselves and the people after them who are intent on killing them? This unleashes a torrent of action and suspense, which does not end in Tokyo but continues at an electric pace across the world. Leaving a trail of destroyed buildings, smashed cars and dead bodies in their wake. The relationship between Nina and Eddie continues to develop from previous books in the series, providing some background to the main plot.
The climax to the story is immense and gives the author a chance to use some amazing action scenes before a deadly climax.
The book is, perhaps, written in the style of Clive Cussler but not in a mirrored way, but in a fast paced well written way. Forget reality with this story and let your imagination flow with the story – and you will not regret it.
The next book in the series is due out in September 2012.
817 views