ASSOCIATES (2012, March, v. 18, no. 3)
Spotlight
Megan O'Brien, Sydney, Australia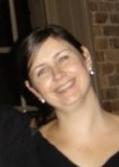 Arts Services Team Coordinator
Fisher Library, University of Sydney

Where do you work and what do you do?
I work at the University of Sydney Library. My position is Arts Services Team Coordinator (equivalent to Senior Library Technician) and I am based in Fisher Library, the largest of the 13 libraries in the University. Besides being line manager for a group of around 17 technicians and assistants, I coordinate the duties that they need to perform. These include document delivery, faculty based loan enquiries, course readings (both electronic and hard copy) and rostered service points. I also support our team leader and faculty liaison librarians (who deal directly with the schools and faculties) by ensuring that the technicians and assistants can help deliver their specific needs. This includes supporting both online and in person information literacy programmes. In addition to this I communicate and meet regularly with other faculty service team coordinators to trouble shoot any service issues, ensure that our level of service is standardised amongst our locations and identify any training issues in our staff so we can arrange training packages to accomodate their needs.
How did you get involved with library work?
I decided to apply for a part time job in the University of Sydney Library after I had my first child. I had been working as a manager in the hospitality industry and the hours and conditions were not very family friendly. Once I started working in the library I realised that this was a career I wanted to pursue as I loved the combination of client contact, service provision and the experience of working in a fast changing information management environment. Since then I have tried to gain as much experience and training in the sector as possible. I have completed management training, I read professional journals (such as Associates!), keep abreast of technology developments and attend conferences whenever possible. I also utilise social networking to keep in contact with colleagues from other institutions- this is great for keeping up to date with what other libraries are doing and what we could possibly incorporate into our own services. Professional associations such as ALIA in Australia are also a wealth of knowledge.
Describe Support Staff activities in your area
There are so many support roles in our libraries it's hard to list them all! I can only really describe what our services teams do…here are the main ones:
– Service point duties. This pretty much involves answering any student enquiry when they walk into the library or directing them to the place they should go. Staff need to know about IT services(such as how to connect to wireless), Student Card Services, room and building locations, printing, scanning and microform facilities, how to use the catalogue, database and Endnote classes available and how to enrol online to them, how to pay for or appeal a fine, checking books in and out, showing students how to use our self-check machines, directing reference enquiries to the appropriate librarian etc.
– Document Delivery. We use Innovative's Millennium at the University of Sydney which includes a document delivery (ILL) module. We also use ArticleReach which is part of the Millennium suite. We need to make sure that requests from both our own clients and those from other institutions are supplied in a timely manner. We use a rostering system to achieve this. The arts faculty requests can often be quite tricky and our staff are amazingly talented at tracking down obscure, and often very old, documents.
– Course Readings. We provide a two hour loan collection for hard copy essential readings and will create electronic links for chapters and articles. Just before semester starts is an extremely busy time for us as my team has to process around 200 lists for courses that can sometimes include hundreds of readings! We also upload past exam papers onto our server and create records for them in the catalogue. Staff need to be very aware of Copyright obligations when making items available online, as well as have the technical expertise to upload documents, create proxied links and catalogue the items correctly.
– Loan Enquiries. This requires a great deal of tact on occasion. Our system sends out automated overdue and fine invoice notices and quite often students and staff can be surprised or upset if they receive them. We need to be tactful, fair and ensure that we both adhere to auditing requirements and that our clients are fully informed about the processing of their enquiry every step of the way.
– Anything else! We have opportunities to participate in many projects that are happening within our libraries. These can be large, like weeding and moving collections, or small procedure improvements that involve group work, collaboration and consultation. One of our flagship projects has been iResearch; a series of online modules to help students navigate research, information and the library in general. Not only has this project won awards, but support staff have had a great time contributing by helping with filming, learning how to use Photoshop to edit images or providing voiceovers for use in the online games and tutorials. Have a look! http://sydney.edu.au/library/skills/
Final Comments
I've been loving my career in the library so far- there have been lots of opportunities to grow and expand my knowledge base. In 2010 I won a University of Sydney Library Staff Recognition Award for my work in coordinating the amalgamation of two of our libraries. I was also selected to go to the ALIA Library Technicians Conference in Perth last year. I like to put my hand up to participate in activities that are outside of the day-to-day running of the library. The conference in particular was extremely rewarding as I brought back some great ideas and made some really good contacts with staff from libraries outside of my institution. Right now I am collaborating with a TAFE teacher of Library Studies who I met at the conference. He came to our library to present a staff development talk aimed at our support staff, and I went to TAFE to do a presentation on how to get a job in libraries, which dealt with how to write an application and interview skills. It was great fun and well received by both groups. My general advice for any support staff would be to look for opportunities and grab them!
965 views