ASSOCIATES (2008, March, v. 14, no. 3)
Review
The Fiends of the Library
Free for All: Oddballs, Geeks, and Gangstas in the Public Library
by Don Borchert.
9781905264124 ($21.95)
New York : Virgin Books, c2007.
xv, 223 p. ; 22 cm.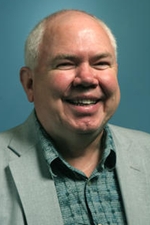 Review by
Manuel Urrizola,
UC Riverside Libraries
manuelu@ucr.edu
Don Borchert works in a public library. This is his first book—the first he has written. He writes at the end of the book, after the Afterward in a section titled Selected Reading, "Librarians like books. They like to read them, critique them … and recommend them …" I read this book. Now I critique it.
Free for All has stirred a minor controversy among a few librarians—something to do with the author not being a librarian or the author calling himself an assistant librarian rather than a library assistant or reviewers referring to him as a librarian or patrons thinking he is a librarian. I don't get it—the controversy that is. I get the book.
Borchert entertains and sometimes shocks me (or almost shocks me—I'm not easily shocked having worked most of my life in libraries) as he relates a myriad of incidents in the library where he works, a library situated in a South Bay neighborhood of Los Angeles County called Bay City (i.e. Torrance). This is a collection of many funny, a few silly, more than a few gross, some dark, and several poignant anecdotes. I laughed a lot and cried a little.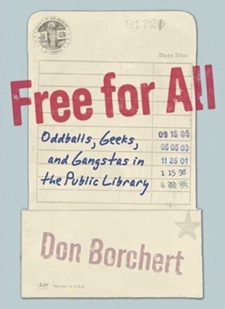 Free for All is a work of nonfiction. All but a very few names are changed as well as some details. This is done to protect the guilty and more importantly to protect Borchert from the guilty. Don't get me wrong, there are friends and the Friends of the library in this book. But, as the subtitle of the book suggests, there is a fair share of fiends, from overdue cheats to overdose dealers.
Borchert's anecdotes are as diverse as the Southern California inhabitants, whose ethnicities pop up in almost all of the narratives. South Bay demographics are to-say-the-least diverse, one quarter each: white, Black, Asian/Pacific, and Hispanic. All four groups make up the heroes and villains of Bay City Library. They come in all shapes (Little Talafaiiga is short and weights at least 350 lbs.) and sizes (Little Talafaiiga's son is 8" taller than dad and scrawny). While all ages are represented, the extremes (children, teens, and seniors) predominate. Most are human. Some are beasts. In chapter 12, a dog named Raffles is proclaimed the hero, a marmoset is prescribed the villain.
Some incidents I immediately identify with. Others seem far-fetched. I am in the middle of one of the far-fetched narratives, my credulity wavering. Borchert reads my mind.
"At this point, you think I am lying to you just to make this a good story … that I am purposely painting in broad, comic strokes to make a point. I am not."
It works. My doubts vanish. I believe this incident, all the incidents.
Free for All is about Bay City Library, its users and workers—one worker in particular. Borchert begins by telling me what he did before he landed his "real job" at the library. Relating how he landed his "real job," Borchert pokes fun of civil service with wit and a harmless dose of cynicism. He tells what he sees and hears while working in the library, not in staid objectivity, but through his senses, his insights, his prejudices. Borchert is telling his story, a very entertaining story.
Free for All: I read it; I critiqued it; I recommend it. Free for All is easy and fun to read, cleverly and clearly written with healthy doses of subjectivity and levity. PG. Adult language, in part from non-adults.
---
Manuel Urrizola received his B.A. from Amherst College and his MLS from UC Berkeley. He is the Head of Cataloging & Metadata Services at UC Riverside, editor of Great Moments in the History of Technical Services, coordinator of Brief Lunchtime Talks, ALA committee chair, award-winning speaker, master of ceremonies, teacher, trainer, mentor, opera lover, map collector, cartographer, and poet.
1,016 views