ASSOCIATES (2012, July, v. 19, no. 1)
Spotlight
Gerry Deyermond, Andover, Massachusetts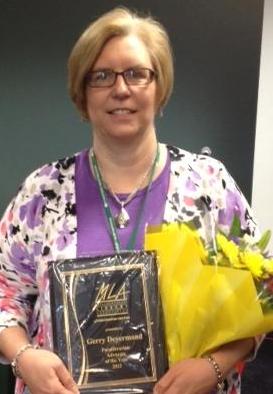 Assistant Head of Circulation
Memorial Hall Library
gdeyermond@mhl.org

Where do you work and what do you do?
I work at Memorial Hall Library, in Andover, Massachusetts. I am the Assistant Head of Circulation. My responsibilities include supervising our high school pages, working at the circulation desk, solving circulation problems; manage our downloadable audio book collection from audible.com, book club kit manager, process periodicals, and a few other jobs as needed. My most favorite part of my job is helping people use and download eBooks to their new eBook readers! Have worked here for the past 13 1/2 years and look forward to going to work everyday!
How did you get involved with library work?
By accident! I was working at an insurance company in their personal injury unit and was told after working there 3 years without an increase in pay that I was not budgeted for a raise. I spotted an ad in our local newspaper that the library was looking for a part time library assistant. I applied and the rest is history!
Describe Support Staff activities in your area
I have been active in the Massachusetts Library Association Paralibrarian section for about 8 years and have held the rolls of Vice Chair/membership, Chairperson two terms, Past chair two terms, and I have served on the Career Development committee helping to develop the Paralibrarian Recognition of Achievement (PARA). I have also created, with the section, the Book Cart Drill team Competition at our annual conference, based on the ALA competition. This has been a fun, team building addition to the conference for the last 5 years! The Paralibrarian Section sponsors several programs including the book cart drill team at the annual conference. Recent programs include a Children's author program, bestselling author Lisa Genova (Still Alice and Left Neglected), Outa Sight, Not Outa Mind- a work shop on getting the word out and meeting alternatives. The Paralibrarian section uses our blog, http://mlaparalibrarian.wordpress.com/, Twitter, @MLAPARAS, and Facebook to get the word out to those that are unable to come to meetings but still want to be involved. We also utilize Skype for virtual meetings. I also advocate for Paralibrarians on the fiber art website Ravelry.com in the Ravelibrarians group.
Final comments
I have earned the level 3 PAralibrarian Recognition of Achievement (PARA), the PARA is a voluntary program to formally recognize paralibrarians of Massachusetts who go above and beyond their regular job duties, Paralibrarian Advocate of the Year 2012. Paralibrarian Advocate of the Year goes to a person who truly appreciates the value of paralibrarians in our libraries, and who has worked to increase their opportunities and visibility. I was Library Journal's "One to Watch" in 2010. I have attended the New England Library Leadership Symposium in 2008, a weeklong retreat to explore ones leadership style with other library staff in New England. I was one of only 3 or 4 Paralibrarians to attend along with library directors, assistant directors and librarians. It was a wonderful experience where I have learned about my leadership style and met new friends in the library world.
951 views