ASSOCIATES (2012, July, v. 19, no. 1)
Feature
Touring Techs
Amanda Savory, Student, TAFE, Wollongong, NSW
and
Robyn Lacy, Dept of Education & Communities Library School Administrative Officers, Sydney, NSW

On Sunday, 11th March, members of the ALIA Victorian Library Technicians Group and ALIA NSW Library Technicians Group were given a unique opportunity to tour the newly refurbished Macquarie University Library.
The two hour tour was conducted by Wendy Palmer (Facilities & Equipment Coordinator and NSW Committee Member) and her work associate, Matthew Cowdery.
Construction of this library was commenced in November 2008 and has 5 levels plus basement and plant rooms. It was completed February 2011 and was in full operation on 1st August 2011 with a total cost of approximately $97 million.
The outside of the library was designed to evoke a forest of eucalypt trunks. The external fins do not move but do assist in regulating light and heat within the building.
The entrance symbolises "Open Arms" and the library now has 10,000 students, teachers and general public visiting a very spacious library each day.
Each of the 5 levels features colour coded furniture and signage and there is seating capacity of 3,000 across all 5 levels of the library. In addition, there are more than 200 computers available on Levels 1 and 2.
The Library has been designed with a number of sustainable features, these include: indoor blinds that open and close automatically in response to temperature changes; natural light wells for lower floors; use of recycled rainwater from a "Green roof" to flush the toilets and the library has great indoor air quality.
With a collection of over 2.8 million items, Macquarie University is the largest academic library in northern Sydney. They are committed to innovation excellence, flexibility and professional principles in services to enable Macquarie University to be among the top eight research universities in Australia and the top 200 in the world.
The services include: excellent enquiry areas with mentor staff available at all times; quiet rooms available for the disabled; circulation desk and a quick borrowing system; books can be requested by students and retrieved by library staff from the Automated Retrieval Collection (ARC) area within a 30 minute time frame; wireless access and power everywhere; photocopy and printing facilities are available on every level accessed by a "tap and go" system, using your campus card. There is also a café seating 100 plus.
What is unique about Macquarie University Library is that it is the first University in Australia to install an Automated Storage and Retrieval System (ASRS) in its library. There are over 700,000 resources in the ARS with a cost of $6 million. Approximately 80% of the physical collection will be stored in the ASRS and 20% on open access shelves.
We were provided with a demonstration on how the robotic cranes can retrieve an item on request and deliver it to the service desk for collection. The retrieval process takes just a few minutes and will help increase the use of their print collection by making access more convenient. This area is totally dust free.
This key innovation allows the Library's whole collection to be stored on site and be immediately accessible. Items stored in this system are referred to as the Automated Retrieval Collection (ARC). You can request an item from the ARC online via the Library Catalogue.
Another interesting area of the Macquarie University Library is that it features a lovely "Bamboo Garden" on the ground floor and if you look very closely you might see a friendly gorilla munching on bamboo.
On completion of this excellent tour we all made our way to the Macquarie Centre nearby for a delightful lunch at Nick's Diner before ending a very enjoyable and informative library experience.
See : http://www.mq.edu.au/on_campus/library/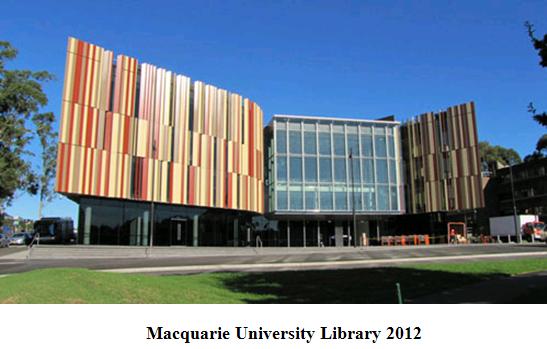 902 views