ASSOCIATES (2012, July, v. 19, no. 1)
Column
Be It Ever So Humble…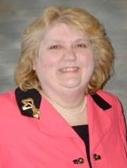 Sue Knoche
Medical Library Assistant
ETSU Quillen College of Medicine Library, Johnson City, TN
Knoches@mail.etsu.edu

Time marches on faster than ever these days, but how about that old cliché of "getting older and wiser"? I'm still waiting for the wiser part, aren't you? The zealousness of youth or the crazy things we all tried through actions that defied logic while feeling indestructible are just fond memories at this point, with a new ache or pain appearing now and again. Although, I may be getting slower or forgetful, the opportunity to participate in fun or creative activities never gets old.
East Tennessee State University, here in Johnson City, Tennessee, U.S.A., where I work, held the annual staff appreciation picnic and for fun invited everyone to participate in a "crazy hat contest". I was surprised at the number of contestants, who ranged in age from 19 years to retirement age.
Of course, I entered my very own creation, with each piece hand sewn or secured with pipe cleaners including a mini-book
light, mini-books, with a DVD, book dust covers (which we don't use for our collection) and a cute stuffed rainbow colored worm, as "Ms. Bookworm". As you can see I look stunning. Sorry to say, there were others slightly more creative or outlandish than mine; however, my creation did capture third prize. I felt like the top winner due to the volume of applause or accolades from people I've worked with for many years both in the library and University campus. The prize was handed to me in an envelope which had been hand-made by one of the art students. It contained many different coupons/certificates for free food and/or services donated from area businesses. Some of the highest ranking staff and faculty, who one would consider most dignified and professional in every way, participated too. The entries ranged from an inverted slightly damaged clay flower pot on the crown entered as "a crack pot" (she explained that we can all be one at one time or another) to a "bug lady" and others too numerous to name. The other surprise was a gentleman, always impeccably dressed each day in a suit/tie and is high in the hierarchy of this University, who appeared in blue jeans and a checked shirt and donned a hat with a large chicken (stuffed of course) on top and seemed to enjoy every minute of it. A good time was had by all.
In June, I participated in the American Cancer Society Relay-For-Life, Carter County, TN and this year was titled "Lights, Camera, Action for a Cure" and every team selected a movie theme. My team was 'Pirates of the Caribbean'. I did the posters of our mission delivery information entailing many aspects of lung cancer. Although, I am not sure why I thought to shrink wrap the poster, I'm glad I did. About an hour before the start time, a storm appeared without notice and bombarded our area with torrential downpours, plus extremely high winds. It was an uncomfortable feeling, to say the least, to stand in the drenching rain holding the easel, tent straps and other things down to protect everything from flying away. A nine foot pirate boat constructed out of Styrofoam, complete with masts & flags were being held down by two very large team mates dressed as pirates. Surprisingly the boat remained intact throughout the ordeal. About 30 minutes of this torturous adventure ended as quickly as it began. Although we were all soaked to the skin, we all faced and endured the challenge with no complaints. The balloon arch was destroyed; however, the sun eventually came back out just as the survivors started their lap around the track with applause louder than ever for the participants as we saw a bright rainbow emerge behind them. At the end of the group we saw a man who was struggling and a few of us tried to assist him, but he was determined to finish the lap on his own power, and he did. Mine were not the only eyes that were wet with tears.
The realization that a recipe for living may be simplistic and include: a little bit of fun + a challenge thrown in, occasionally to make it interesting + an ability to give of yourself without asking or expecting anything in return and sprinkled with a little love and respect = Life is good.
1,015 views