ASSOCIATES (2012, July, v. 19, no. 1)
Feature
ALA Conference 2012: View From Down Under
Janette Telford
Loans Coordinator
Australian Catholic University, MacKillop Campus
North Sydney, NSW

Before attending the ALA conference I visited the Maritime Museum in San Diego. When I wrote to the museum that I would like to visit I was surprised to discover that the librarian was Australian. The library is actually on a boat together with the submarines and other vessels. I also visited the USS Midway and discovered that they had a library, however I could not locate the librarian to organise a visit.
The first official function I attended at the Conference was the International Librarians Meeting. Here information was distributed to delegates on transport, food and sightseeing. As there were five other Australian delegates it was a pleasure to meet one there. The one item my friends forgot to mention was, some of the session commenced at 8:00am at different locations other than the convention centre.
I had been warned about the number of people and trade stands that attend an ALA conference but it was still a shock to the system. I waited with anticipation for the opening of the trade exhibition and joined the long queue only to discover that the queue was for book signing and not to the exhibition. After walking the trade exhibition and ending up with blisters and a sore back from all the goodies, I went to back to the program and exhibit directory to find out where to go next.
One of the sessions I attended was Library Support Staff Certification (LSSC) where I met fellow colleagues and discussed issues regarding certification in the US. I also discovered their facebook page. I also attended the presentation of Paralibrarian of the Year to Linda Dahlquist and the dinner that followed.
Here I discovered another problem, what to do next. Do I attend a session, a conversation starter, books and authors or poster presentations? After much deliberation I divided my time to cover at least one session in all areas.
One of my many highlights was attending the books and authors with Lin Oliver and Henry Winkler. Sitting in the front row with Kareen Turner where Henry Winkler read from his latest novel (including the Fonzie voice) and then later at the Poptop Stage he signed his novel and I had my photo taken with him. He even wore the koala that I gave him.
The final session was the closing with J.R. Martinez who gave a moving and poignant presentation on how to deal with adversities in life.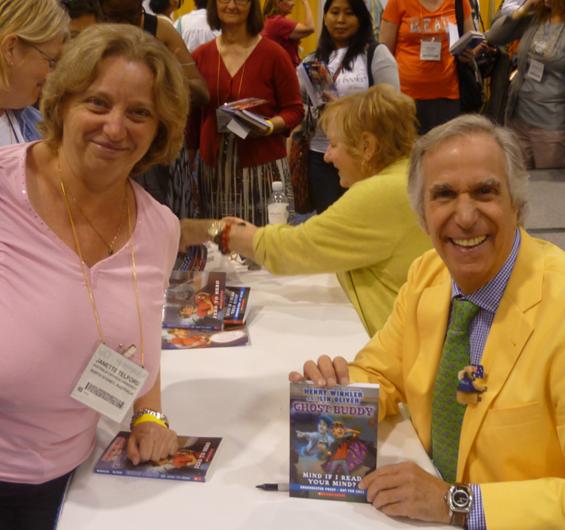 1,048 views