ASSOCIATES (2012, November, v. 19, no. 2)
Spotlight
Judy Allan, Perth, Western Australia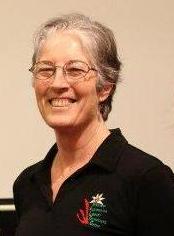 Library Technician
Legal Aid Western Australia
pjallan@arach.net.au

Where do you work and what do you do?
I work in the library at Legal Aid Western Australia. Legal Aid is an independent statutory body set up in 1976, funded by both State and Commonwealth governments. http://www.legalaid.wa.gov.au/Pages/Default.aspx. I began here in mid 2002, initially part-time to fill the last eight weeks of a maternity-leave cover contract.
What do I do? Just about everything – except the budgets and contract negotiations which, fortunately, are the responsibility of the Librarian.
This is a small, two-person Library and we work closely together – Deb is amazing and I enjoy working with her. The day begins with the preparation of our daily 'News Clippings' service – we scan the local and two national papers for items of interest to our clients: changes to legislation, court decisions and policy changes. This is posted to the intranet and I receive requests for copies of articles, particularly from our regional lawyers who don't have newspaper deliveries. There is a daily download of court decisions, the records of which are added to our in-house-created databases – some court decisions are available on the Courts' websites but, where these are not published, our databases provide search access to our clients. Checking in journals, and circulating these and chasing up tardy readers; filing looseleaf updates [10 copies of this title; 7 copies of that and 13 copies of this ….]; copying articles from journals; legal research; amending legislation; keeping up-to-date and intact sets of legislation held at the courts.
How did you get involved with library work?
When my eldest child started school I began helping in the classroom and in the school library – and really enjoyed it, and began thinking, rather than return to my public sector administration role, I would prefer to work in a school library. So when my youngest started school I began part-time study. While I was studying I found some very part-time [2 half-days a week] work at a small [think large cupboard] library in a private hospital.
Following graduation I had a short-term part-time contract to catalogue a health-related library, at the end of which I started work here and, apart from a two week practicum during my studies and the volunteering in my children's school library, I have not worked in a school library. I don't say I won't ever go back to a school, but I do like my job here a lot.
Describe Support Staff activities in your area
The Western Australian (WA) Library Technicians (WALT) Section of the Australian Library and Information Association (ALIA) first started in August 1979 with a committee of 10 and lasted until 1981 when it folded because of lack of interest in nominating for the committee positions. The group reformed again in 1984. The ALIA WALT Group has organised two successful National Library Technicians Conferences, in 1999 in Fremantle and 2011 in Perth. Some of the profit from the 1999 Conference was set aside to assist library technician students to attend the biennial conferences. In the years in which there is no conference, we organise a local weekend seminar – the most recent one in September was very successful. The Group holds semi-regular meetings, trying to visit a range of different libraries; there are purely social events [although networking is valuable professional development] and an annual student evening, where library technician students are able to talk with practicing library technicians working in a variety of libraries. We have also organised workshops on topics such as Career Development and Advanced Internet Searching Skills. I value the friends I have made through the Group and enjoy being a part of it. (http://aliawaltg.pbworks.com/w/page/3803267/FrontPage)
Final comments
I love working in libraries. Every job in every library is slightly different – so if you are not happy where you are, look for something different – until you find your 'best fit'. What I like most about my job is the variety – while filing 13 copies of one looseleaf title can be tedious, I am able to mix up my day by changing tasks, and there is nearly always something unexpected. A request to find an obscure title, or a plea for 'anything you can find out about ….'; explaining how amendments to legislation work; looking for 'lost' library resources; finding elusive case law – it's all about being able to help people find the information they need – and if I can do it quickly enough to amaze them at my expertise, well that's even better!
(Judy was the 2011 recipient of ALIA's Library Technician of the Year Award – Ed.)
1,061 views