ASSOCIATES (2012, November, v. 19, no. 2)
Spotlight
Ruth V. Oberg, Buffalo, New York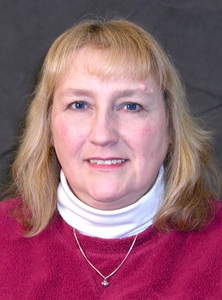 Collection Management Assistant
Science and Engineering Library
University at Buffalo
oberg@buffalo.edu

Where do you work and what do you do?
I work in the Science and Engineering Library at the University at Buffalo (UB.) in Buffalo, NY. My title is Collection Management Assistant. When I use my title, most people think I work at a collections agency harassing people for money. It's my job to make sure that the collections are in good working order, from weeding duplicates and superseded material in consultation with subject librarians, to identifying material that needs repair and sending it to the Preservation Department. When I'm needed to help out, I do the same at Lockwood Library across campus. A large portion of my job is dealing with donations of gift books. We regularly receive large donations from alumni, faculty, and even students. Recently many of our engineering faculty moved into a new building and many of them took the opportunity to review and trim down their personal libraries. I go through the donations and search the catalog to determine what books we need and in some cases I replace our worn, heavily used copies with pristine gift copies. I am the only library assistant in the library so I wear many hats and work closely with the subject librarians on any projects they need help with. I help with collection moves; pulling items to send to the Annex; preparing spreadsheets to track projects; keeping copiers and printers in working order; and I hire and supervise students from the UB Library School who work for us. I am a member of the Science and Engineering Team, which consists of the science librarians in my library and me. They treat me as a partner, and I feel honored by that.
How did you get involved with library work?
My mother was working in Lockwood Library at UB when I moved back to the Buffalo area in 1982. I had two very young children at the time, but knew I needed to get a career started as my husband was settling into his new job. I was working as an office manager/receptionist when my mother encouraged me to take the state civil service exam. I took the exam in 1983 and started working at a temporary job in 1984 for our Regional Library Council while waiting for my name to come up for a civil service job. In December 1984, I was asked to take a six-month position at the Law Library at UB while someone was on maternity leave. Luckily for me, she decided to become a stay-at-home mom and I became a permanent member of the staff. I spent 10 years in the Law Library at UB. In 1995, I had the opportunity for a promotion at the Science and Engineering Library. Then in 2003 another promotion was offered by moving from civil service to professional staff in the same library. As of December 2012, I will have 28 years of service at the University Libraries.
Describe Support Staff activities in your area
We have a local library assistants group in my part of the state called the Western New York Library Assistants (WNYLA). Here is the blurb from their web site:
"WNYLA was formed in 1991, as a discussion group of the Western New York Library Resource Council (WNYLRC), to meet the training needs of library support staff in the Western New York region. In the years since, the planning/discussion group has presented numerous professional development opportunities, often collaborating with WNYLRC in planning and hosting events. In 2007, WNYLA became a subcommittee to WNYLRC's Continuing Education standing committee. As of November 2009, WNYLA is now a WNYLRC standing committee. "
I joined this group shortly after it was formed and I chaired it from 1994 to 2006. We hosted two workshops a year and also started a new series called "Getting to Know You." This series consisted of twice-a-year visits to different libraries in the area to get to know the libraries and the assistants working there. There was a tour and a speaker at each event. This proved to be a great way to visit public and academic libraries that you normally wouldn't get to see and even special libraries within these institutions or around the area.
On the state level, we have the New York State Library Assistants' Association (NYSLAA). There are only two statewide library assistant groups in the country that are independent from their state's library association and we are proudly one of them. I have been a member since 1993. Since 1996, I have held several different positions on the Executive Council, including President, Vice President, and Treasurer. Since 1998, I have served as Conference Coordinator for the annual conference we hold.
Final comments
I attribute my growth and leadership to both of these great organizations. I was very quiet until I joined these groups and they forced me out of my shell! It was the best thing that could have happened to me. I never believed I could stand up and address a group of people. In 1995, when WNYLA was hosting the annual NYSLAA conference here in Buffalo, I just wanted to be a helper bee working in the background. But six months before the conference, the chair decided to retire. No one else would be chair, and I was encouraged to take it on. So in June I found myself addressing 300 people and in charge of a statewide conference! The next year I was on the NYSLAA Executive Council as Vice President. In 2002, I received NYSLAA's Craig Koste Award for Outstanding Service. In 2003, I completed my packet and received NYSLAA's Certificate of Achievement at a Level IV for Administration. NYSLAA is a wonderful organization. It was started by a small, dedicated group of library assistants for a larger group of dedicated library assistants across New York State. I hope it continues to remain independent and flourish. I will be leaving the Executive Council at the end of the year, and look forward to retirement in the next few years.
Some of my greatest pleasures during my library career have been working closely with my colleagues in an atmosphere of mutual respect; mentoring library students on their path to becoming librarians; and working for NYSLAA for over 17 years. I hope I have given back a fraction of what I have received.
1,397 views