ASSOCIATES (2012, November, v. 19, no. 2)
Review
Movies and More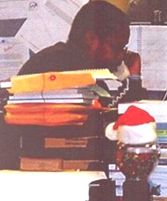 Michael D. Brooks
Saint Joseph's University
Philadelphia, Pennsylvania
If you're a film buff, fan, student of film, or are just looking for a good movie to go see, purchase, or rent, then Cinema Blend.com might be the site for you.
The site is replete with trailers, reviews, behind-the-scenes interviews, and links to other Websites that are film-related. Not everything on Cinema Blend is contemporary. There's lots of information about older films for those of you not quite in tune with the more modern offerings.
If you are the person who orders DVDs for your library and relies on reviews to guide you with your purchases, then the DVD Review link could be useful in deciding what to order. The films listed can be sorted by title, review, or release date. Like for instance, Citizen Kane. The movie was released on home video on December 31, 1996. Or, Mad Max, which was released on December 11, 1997.
Searching their database is really simple. In the Search Our Archives field, type in the name of the movie you're interested in, then in the Drop-down box next to your search, select one of the options. It would be best to begin your search by choosing Blend Film Database in the drop-down. The other options are Movie Reviews, Movie News, DVD Reviews, or DVD News. There are others, but the ones I just mentioned are strictly movie-related.
You can search by a specific title (sometimes you'll get a hit on what you're looking for and sometimes you won't). A search result will take you to a hit-list page of articles about your query or possibly related to it. In my case, I typed in a few movie titles that randomly came to mind, scanned through the results, then clicked on what looked interesting. I did a search for a favorite childhood film and discovered that the Wizard of Oz is going to be converted to 3D sometime in 2013. I discovered that a sequel to the 1996 (yep, that long ago) blockbuster Independence Day is in the works.
If you're a remake fanatic, then learning about all of the movies that are being remade, repurposed, rebooted, or whatever can be found in this database. Red Dawn is being released this month. For those who might not know or remember, the original was released in 1984 and starred Patrick Swayze. For those Johnny Weissmuller or Christopher Lambert fans, another remake of Edgar Rice Burroughs' Tarzan is planned.
In addition to movies, Cinema Blend also has links to articles, reviews, to TV episodes that you can watch online, games, music, as well as everything pop culture. Because there are so many things to choose from, it's very easy to go off-site and not realize it. When clicking on a link, check to see if you're still on the site. A click to something off the site will usually open a new tab on your browser. Just close that particular browser tab if you don't want to be there.
The site is ad-driven, so depending on your browser and computer operating system, an accidental mouse-over of a video ad may result it activating it. But it's a small price to pay for so much fun stuff.
1,094 views