ASSOCIATES (2012, November, v. 19, no. 2)
Column
Be It Ever So Humble…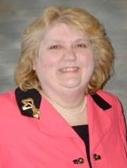 Sue Knoche
Medical Library Assistant
ETSU Quillen College of Medicine Library, Johnson City, TN
Knoches@mail.etsu.edu

While driving to the library this morning I noticed a simple, but large sign, which consisted of a white background with large navy blue letters written diagonally with only one word — IMPACT! There was nothing more than a fine line at the bottom, but with my senior citizen level eyesight plus traveling at posted speed limits, it was impossible to determine who created it or why this thought-provoking sign was visible to all who passed.
Impact on who/whom, how, where or why, were questions I started asking myself. On further analysis could it be asking the question. Have you made an impact or contribution to life? Are we waiting for an opportunity to come along in our work, personal life or to human kind in general, or are we even in a position to judge what constitutes making a difference in the world? This simple but effective word spoke more to me than if I had read a huge novel.
There are many people who are of few words; but, the words they choose are usually eloquent, followed by an action to help others, to perform a random act of kindness, or to be a friend when one is needed. Maybe less is better when a word is powerful enough to generate an analytical thought provoking response.
In retrospect the idea that I have made an impact of some kind would be as exciting as being a perfect human being. On the other hand if you were 'perfect' you would probably be put on a pedestal somewhere in a museum for all to marvel at or draw inspiration from, and at this point in my life I have yet to meet an individual of this caliber. Time moves faster than one would like and it seems everyone has very busy schedules these days, so perhaps the sign is a reminder that we haven't quite made the impact we need to and a bit of self-reflection may be needed.
Perhaps the author of the sign is actually giving everyone who noticed a compelling opportunity to reflect, or contribute to their individual lifestyles and not to dictate to other people how to live their lives. Is there a different explanation for this sign or merely an exercise in intellectual or philosophical thinking? It could be advertising a new product for all I know; but, without further information we may never know.
I believe we all have the secret desire to want to solve all the problems or make a difference in the world, whether in the smallest measurement or on a more grand scale. Take a moment to reflect on this topic — You may already be making an IMPACT! Let's continue to strive for new and exciting endeavors in the upcoming year, to make life the best it can be for everyone.
1,109 views